I've been taking a break.
I haven't had many things to say in the past month. And, most of what I did have to say wasn't nice. Thus, I decided I wouldn't blog.
A good choice.
But, I did engage. Several weeks ago, directly after the Orlando shootings, my therapist and I had a conversation about the arguments that were happening on my facebook wall. "I just want to let loose and tell them all off, but I don't feel like I can." My therapist looked at me, and with a small nod, said "Matthias, maybe it's time for you to start making some mistakes."
That was all I needed. I made mistakes. I went for it. If a comment immediately made my roll my eyes, they would get an eyeroll emoji. If I didn't care what a person was saying, I let them know in very few words. I looped a couple friends in, we would engage with people while on the phone. It felt like a Jr. High version of myself came out…one that I had never experienced.
And it felt so good.
Other than the little twinges of my conscious that my therapist's voice quickly silenced: "make mistakes!",  I enjoyed my new found freedom to shut things down. I was angry. I felt my cynicism, my rage, my rudeness all spill out of me and into the online world. The bridge builder was gone – it was time to start burning. And, since I was fighting on the side of justice, it was all okay.
This is not an apology.
This is not a "and then I checked myself and now I'm all better, so y'all should be better too!" kind of post.
I don't regret my social media presence over the past few weeks. Things changed in my heart a month ago. The events in the world have shifted my perspective and I know that the way that I engage with people is forever changed. That's not a bad thing.
But.
On Sunday, I went to church.
I was in Denver on vacation and I wanted to follow through on an invitation to join Pastor Nadia and Pastor Reagan at House for All Sinners and Saints. A church that I've followed for years and one that I look towards as an example of what a faith community should be.
The lectionary text this past week was Jesus's parable of the Good Samaritan. As Pastor Nadia preached, I began to cry, right on the edge of ugly crying. She spoke about how this story is not a story of the robbers, it is not a story that focuses on evil, it is a story that radically centers on the Good. She proclaimed the reality that for every single person who does evil in the world, there are thousands of people who do good. The good far outweighs the bad.
In our interactions with people. In our social media arguments. Are we bringing Goodness to those around us? Or are we too caught up in our campaigns for justice, our missions, that we are walking by people who are hurt and bleeding? Are we tending to wounds? Or are we using our words without care?
Her sermon wasn't a call to be silent. It wasn't a call to tone-police or glibly wash over the evil that has been perpetrated over the past weeks. It wasn't a call to ignore, or forget, or let our White bodies off the hook for the systems we are continually a part of. It was a challenge towards goodness. It was a plea to pause, look around, and see the bodies that need our care. The people who are in front of us.
Pastor Nadia spoke: "So by all means let us name evil for what it is, let's root out the sin and racism within us, let us fight for justice, but then let us turn the cameras toward the light, lest we become so consumed by the effects of evil that we miss the chance to be kind to a stranger, and we miss the chance to stop and read to our kids and we miss the chance to notice how acts of beauty and kindness out number acts of evil by the thousands, because in so doing we hand evil a bigger victory than it earned when in fact it has already lost."

I haven't been very good at seeing people these past few weeks.
I've seen ideologies. I've seen systematic oppression. I've seen guns and violence and campaigns and racism and homophobia. But, I haven't seen people. And I want to see people.
I want to see people again.
But, seeing people is really difficult. Especially when we're angry. Especially when we're fighting for our places at the table. Especially when we're doing so much work just to exist. For some, this call to see people as living, beautiful, breathing images of God, is too much. And that's okay. For some of us, we simply cannot do that right now. And that's okay. It's important to let ourselves sit in those spaces as long as we need to.
For me, though, this challenge hit me in the gut. I felt all of the words of my conscious that I had been ignoring come flooding back to me. I felt my values check back into place. Oh, yes, this is who I want to be. I want to be a person who can fight injustice while still noticing the wounds of the people right in front of me. It is only through tending wounds that healing can happen.
Healing happens through tending wounds.
Healing happens through tending to people.
I haven't been in a place where I could do that in the past weeks. But, it is a place that I want to move back into. A place that I'm working to move back into. Because, I want to be a person who shares Goodness in every interaction. Even the most frustrating. Even with the trolls. Goodness.
Baby steps.
—
Listen to/Read Pastor Nadia's sermon here.
---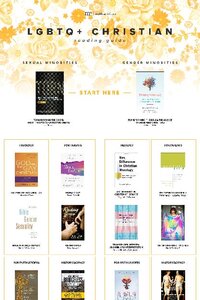 Get My LGBTQ+ Reading Guide!

Want to learn more but don't know where to start? This guide makes it easy.