"To our most bitter opponents we say: "We shall match your capacity to inflict suffering by our capacity to endure suffering. We shall meet your physical force with soul force. Do to us what you will, and we shall continue to love you. We cannot in all good conscience obey your unjust laws because noncooperation with evil is as much a moral obligation as is cooperation with good. Throw us in jail and we shall still love you. Bomb our homes and threaten our children, and we shall still love you. Send your hooded perpetrators of violence into our community at the midnight hour and beat us and leave us half dead, and we shall still love you. But be ye assured that we will wear you down by our capacity to suffer. One day we shall win freedom but not only for ourselves. We shall so appeal to your heart and conscience that we shall win you in the process and our victory will be a double victory." -Martin Luther King Jr.
This was read in one of my classes recently and it has stayed with me all through this week. We shall still love you. 
Here is a man in the throes of a civil revolution unlike anything our country had ever seen. A man who lived with the threat of physical violence on a daily basis. Yet, he stood in the face of that violence and proclaimed a love that ultimately triumphs. A love that is stubbornly moving in our world ushering in a Kingdom of peace.
How do we face the people who threaten our wellbeing? Do we love them? Really, truly, deeply love them to the point of willingly suffering? 
It's far too easy to respond with aggression.
It is too easy to silently stare with defiance in our eyes and harsh words muttered under our breaths.
It is easy to counter violence with violence. Whether it is physical, emotional, or verbal. This is our natural state of being. An eye for an eye. A tooth for a tooth.
But, these acts perpetuate. Violence creates more violence and we get stuck in a never ending cycle. It is strangely comforting. There's something so deeply satisfying to look into the eyes of someone who has caused pain and see that spark of pain being returned. It feels so good. A sense of justice. Of retribution.
One of the most beautiful things I see in the life, and most clearly in the death, of Jesus is that he ends this cycle. He shows us there is a different way. By responding with love, not aggression, not violence, but love, he disarmed and brought perfect redemption. Redemption that we are invited to participate in. Martin Luther King Jr. saw this, "Now there is a final reason I think that Jesus says, 'Love your enemies.' It is this: that love has within it a redemptive power. And there is a power there that eventually transforms individuals. Just keep being friendly to that person. Just keep loving them, and they can't stand it too long. Oh, they react in many ways in the beginning. They react with guilt feelings, and sometimes they'll hate you a little more at that transition period, but just keep loving them. And by the power of your love they will break down under the load. That's love, you see. It is redemptive, and this is why Jesus says love. There's something about love that builds up and is creative. There is something about hate that tears down and is destructive. So love your enemies." As followers of Jesus, we are called to something different than this age-old cycle of violence. We are called to disarm. We are called to radically live in a different reality, not of retribution, but in laying down.
To my friends who are sitting in dorm rooms, houses, and churches feeling crushed under weight and pain. It is easy to let the fire of pain cause destruction. But, to truly break these cycles, we must cast aside our weapons.
It is not easy. It does not feel successful. It goes against every fiber of our being. We will fail time and time again. Yet, there is deep peace in this place – a peace which passes all understanding.
May this love be true of us.
---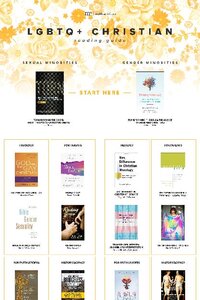 Get My LGBTQ+ Reading Guide!

Want to learn more but don't know where to start? This guide makes it easy.