"Look at this. These are real people worshiping a living God despite the conditions that the 'holy' people have placed upon us. This is beautiful."
I get caught up in having to prove things.
It happens when I get on facebook. Or when I think about groups of people that have had a defining impact on my life. It's always in my head – these people are out there expecting something. They have certain ideas about who I am (or who I should be) and most all of them are wrong. Or so I feel. Deep down in my body I feel disapproval, questioning words and glances, and a constant state of being on guard. When I speak what I believe to be true, I filter it down in hopes that my words will be received well. It's all wrapped up around my faith.
Maybe if I say Jesus more? Maybe if I talk about my faith more publicly? Maybe if I go to seminary? Maybe if I quit proclaiming my love for Katy Perry?
These things don't help. The voices are still there. Sometimes from actual people, but even more in my head.
I wrestled with this while I was in Portland at the Gay Christian Network conference. I faced the tension between a close connection to God and an email I got from a family member comparing my attendance with an adulterous friend. As I worshiped Jesus, my inner thoughts kept returning to these other voices. I felt like I had to prove something. You can see it in my instagram feed, I intentionally took pictures of the hymn lyrics my friends would recognize from their own churches: see, us gays can worship Jesus too. 
I sat in the middle of the convention center with a large cup of coffee and my journal asking this question what do I have to prove?!  Why do I feel this need to show my Christianity, my devotion to Jesus, to the population that exists outside these doors? There's bitterness present here that has something to do with the subtle but persistent questioning and name calling that is directed towards me by a variety of people I care about. Heretic is the most recent name.
It's the raised eyebrows when I say that I want to wrap my life around Scripture instead of wrapping Scripture around my life. The next question posed towards me is almost always "do you think Christians can be deceived?" Yes. I do.
What do I feel like I need to prove? My faith? What will I gain from proving this?
These voices are tiring. I wallow within them, playing the victim in my own head. I'm doing it here now: playing a victim in hopes to appeal to senses of empathy. But 'deceived' people don't get empathy. Deception is that trump card that allows us to skip empathy and move to speaking our minds. Living outside of the mainstream is hard, especially when the mainstream claims to have the power of Heaven on their side. (I feel the bitterness rising again.)
I am weary. There are conversations that I want to have but I'm tired. I want to be heard, but I don't want to speak. I want to be validated, but I don't want to be vulnerable. I want people to look at my life and see a person who is trying to follow Jesus with everything he has instead of "that deceived Roberts kid."
What do I have to prove?
Nothing. All my attempts are worthless. It doesn't matter what degrees I get, what work I do, or what I believe. If a person isn't open to listening, then I'm going to be dismissed no matter what.
That makes pause and turn it all back on myself. If I'm not open to listening to the people around me, then I'm going to do the same thing: dismiss them. Playing the victim is fun. Listening to the people who make me feel like a victim is not. But, that's what I'm called to do. It's what we are all called to do. We are not commissioned to prove who's the better Jesus-follower. We are commissioned to love the people who are around us, no matter who they are.
It's easy to love and listen to the people who will listen to me. It's infinitely harder to listen to those people who refuse to listen. There is nothing in me that desires to sit with the person who calls me a heretic and shuts down my every attempt to engage. Yet, when I choose to set aside my pride and stay within the discomfort, things begin to change.
We speak to what we believe. Often times, the things that make us shut down and refuse to listen are the things that we are most passionate about. Yet, these may be the areas where we need to open up most. A soft answer turns away wrath. A soft answer also opens doors.
What do I need to prove?
That's the wrong question.
Maybe I need to be soft instead.
---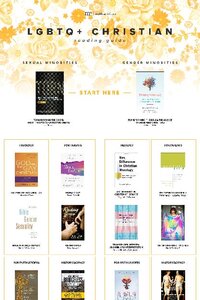 Get My LGBTQ+ Reading Guide!

Want to learn more but don't know where to start? This guide makes it easy.