Sometimes, the hardest things to admit to ourselves are the ones that provide the most liberation. I wrote about this for On Faith magazine this week. You can read the first bit here and check out the rest over at On Faith.
—
"I'm gay. God loves me just the way I am."
I read the words and my heart lurched. After sending a quick text — "Did you read Vicky's interview?!" — I proceeded to finish the article. After several months of suspicion, here it was. Vicky Beeching had dropped the bomb.
I have long admired Vicky for her vulnerable songwriting. I remember singing along to her songs on the radio as a teenager. She seemed like a genuine, likeable person. Those feelings have only been confirmed since she decided to be honest with the world. Vicky is the real deal and she is opening up the deepest parts of herself for everyone to see.
As expected, she's being faced with a considerable amount of pushback. Pastors telling her that she has given herself over to a lie. Worship leaders dropping any and every song with her name on it. A general questioning of her salvation and commitment to Christ.
My Facebook wall is just one instance of the larger conversation around Vicky and her adoption of a "gay identity." I see some friends of mine saying that people who claim to be Christians and self-describe as "gay" are willingly letting sin rule in their lives. Other friends are asking, "Isn't our identity supposed to be in Jesus?" These friends, like many Christians, are okay with people saying "I struggle with homosexuality" or "I'm same sex attracted," but the moment someone claims to be gay, defenses go up.
People who call themselves gay are apparently choosing their sexuality over Jesus.
This is ridiculous.
…
---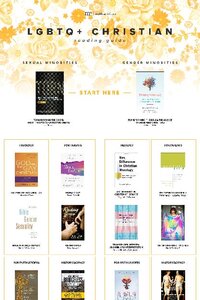 Get My LGBTQ+ Reading Guide!

Want to learn more but don't know where to start? This guide makes it easy.