"You can't be hurt by a faceless, nameless institution. You were hurt by people. You can only truly begin to forgive when you have names and faces."
-Rob Bell
In my conversation with Rob Bell last week, he brought up that often we blame "the church" for our pain instead of the actual people who have hurt us. He contends that once we are able to become more specific with who caused the pain, more healing will take place. While I think there is a great deal of wisdom in this, it certainly has been true in my own life, I also think there is some complexity here that needs to be fleshed out.
Because, sometimes the church does hurt.
There are so many of us who have grown up or been involved in church communities that were the only church communities we knew. While I personally have never had a church publicly turn against me, I have heard story after story of friends being asked to leave, kicked out, publicly spoken against. The places where my friends worshiped, the people who made up the church, their Church, turned against them. Sure, it may have been one or two or fifteen specific people, but the results were a removal of an entire community. "You are not welcome here."
Those people were the faces. Those people where the names. Those people were the church. They were your church.
Heartbreak, betrayal, confusion, fear, desperation. To look at that person and say "your church didn't hurt you, it was just a few people" feels like it overlooks a great deal of pain.
For some of us, we don't know any other church than the churches that hurt us. For some of us, we cannot imagine that there are other communities out there who will love and embrace and welcome. For some of us, after being shamed and excluded and cast out, we can't bear the hope that maybe, just maybe things will be different in another community.
It's okay to blame the church.
It's okay to blame God.
It's okay to look at those communities and make sweeping generalizations. It's okay to feel those feelings, to let the anger and the tears and the pain bubble up. It's okay to roll your eyes at the doors and the people that say "you are welcome."
Of course we're skeptical.
Of course we're afraid.
Of course we're angry.
We've been hurt. Someday, maybe, a slight glimmer of hope may work its way in. But, then again, maybe it won't. Someday, maybe, we'll be able to take a step back and see goodness that was present in the pain. But, then again, maybe we won't. You don't have to force yourself to do that work. It is not honoring to yourself or your experiences to push down what you're feeling and walk back into situations that cause pain.
Sometimes, blaming the church is all we can do. Sometimes, stepping away from the church is all we can do. Sometimes, feeling all the anger and pain and frustration, and actually feeling it, is all we can do.
And that is okay.
So, take Rob's words for what they are. For some of us, they meet us in a place that may lead to further healing. For others, they completely bypass the reality of the hurt and pain we are experiencing. If you're in that place, I say: go ahead, blame the church. Blame it with everything you've got. Because, it failed you.
Sometimes the church hurts.
May we be people who let ourselves feel that pain. Who lean into that hurt. Who bravely allow ourselves to feel what we feel when we feel it, even when they're scary, negative, powerful emotions. Because, feeling those feelings is also a path to healing.
May peace be with us in our pain.
---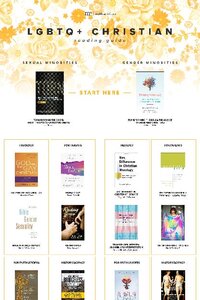 Get My LGBTQ+ Reading Guide!

Want to learn more but don't know where to start? This guide makes it easy.