Are we leaving behind our sisters and brothers in the pursuit of progressive values?
In my corner of the internet, recently there has been a lot of conversation about singleness and LGBT Christians. On a piece of mine that gained some traction a couple days ago, I've noticed some attack directed at me for admitting that I've never been in a relationship. I haven't read many of the comments, but the ones I glanced at have me thinking about the way we engage topics of singleness and celibacy within LGBT Christian communities: often with a little bit of violence.
Singleness and celibacy should always be a valid option, for all people, regardless of what we believe.
I understand, many people in the church have co-opted passages about celibacy and used them to offer universal declarations around how LGBT people should live their lives. In some cases, this theology has caused immeasurable pain. When some of us come to different understandings of scripture, it's easy to bristle at any language that rings of the teaching that tells us we cannot have relationships.
There is a deep seated fear within us that what we have fought so hard for will be taken away. We protect the wounds that are still healing, not wanting them to be ripped open again. When people in our own communities come along and use similar language, we react.
I get it. I react too.
Yet, when we move to different understandings: when we cross the divide and find ourselves on a other side from where we were before, what posture are we taking? If we are setting up the same camps, if we're picking up similar looking signs and using similar aggressive language to hurl attacks at the people we used to identify with, have we really moved at all?
If our 'progressive values' simply mean we're excluding a different set of people, then we're only fundamentalists rebranded.
We talk about creating spaces that are 'inclusive' and 'welcoming,' but are we practicing those words when we come across someone who believes theology that we don't like?
We're called to something much bigger than that.
Instead of leaving behind our sisters and brothers who earnestly believe that they should remain single for their lives, can we support them in their convictions? When someone writes that they've chosen not to pursue a relationship, can we trust their personal processes instead of assuming the worst? This doesn't just happen in LGBT spaces. It's a problem around singleness in our churches as a whole.
I, too, have many issues with the way celibacy is taught to LGBT people in faith communities. When we make universal declarations about almost anything, we tend to completely miss meeting people in their particularity. Theology is created that works in our minds but not in real life. However, there are many people who have engaged with that particularity and have come to conclusions – ones that may rub us the wrong way. Can we trust those people?
Can we believe that God is working in their lives too?
Even in the lives of people who use Scripture to rally against us?
What would it look like to be people who are genuinely able to open our arms, give giant hugs, and say "welcome, we're glad you're here"?
With grace on our faces.
My hope is that we can be people like this.
---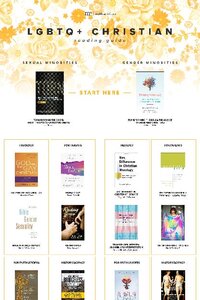 Get My LGBTQ+ Reading Guide!

Want to learn more but don't know where to start? This guide makes it easy.