"Breathe in. Breathe out. Lift up your feet and Bow pose."
Sweat is dripping and breathing is hard this deep into our yoga practice. This is my least favorite pose. We're on our stomachs and I wish I could just lay here and go to sleep. Breathe in. Breathe out. I bend my legs at the knee and reach back grabbing my ankles, lifting my torso. Ugh. I hate this pose.
"5…4…"
I'm struggling to keep my breath steady. In. Out. Just hold on Matthias. Grab those ankles. Lift that chest. Face to the front of the room.
"3…"
Laurie, our instructor, stops the count. "Relax your faces. Matthias. Soft faces."
Shut up Laurie.
I fight the urge to shoot a not-so-pleasant look and let my face relax. The breath gets easier. In. Out.
"2…1…and drop, cheek to one side"
With a collective sigh, we let go of our legs and bring our chests back to the floor. It's coming again, but in these seconds, rest is present.
I've been thinking about this idea of being aware of our faces these past couple weeks. I walk a lot of places in this new city and pass by hundreds of people.
I remember a few years ago, I was meeting up with a close friend in London. As we walked the streets, we would practice our "city snob walks" – confident, assured steps, eyes lifted just above heads, faces expressionless and tight. Step, step, step. It was fun. And ridiculous. Usually we would only get a block or two before bursting out in laughter.  Yet, as I've taken the time to watch people walk through downtown Seattle during rush hour, this is the way most of us walk. No eye contact. Tightly controlled faces. I have places to go.
What do our faces show about us?
Occasionally, I'll catch myself while walking and Laurie's voice rings in my ears, "soft faces, Matthias." I let my face relax and look at the people around me. Just that one act brings a world of perspective. Wonder seems to jump out with joy on its tail. Our faces are windows. They let people see inside of us, and yet they also are how we see the world. With that one conscious effort, my world changes.
Of course, this makes me start thinking about what my face says about me. When that lady with the dog walks by and we exchange quick glances, what does she see? What do I want her to see? I've been pondering this.
Grace. Love. Hope. A smile. Warmth. Friendliness. I think every one of these things can be communicated within that glance. Sometimes, I see these things in the eyes of others and I can't stop a smile from forming. It's encouragement within a moment, a glimpse of God in the Other.
Soft faces, friends.
---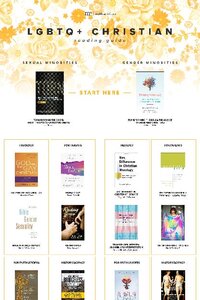 Get My LGBTQ+ Reading Guide!

Want to learn more but don't know where to start? This guide makes it easy.