I've been designing a catalog for a cattle supply company recently, so a round up seems fitting. (Pretty sure that's what cowboys call gathering cows. Right?)
It's been a big year! When I launched this blog in May, I was unsure of what would come out of it. After looking over the stats for the past eight months, I am floored to see thousands of visitors.
That blows my mind.
Y'all are cool. Thank you so much for reading, sharing, and engaging. I've met many neat people through this platform and I grateful for the connections and encouragement!
Here are the posts that were the most popular this year:
"…as I grew older I started to realize I was attracted to the male figure. I found myself romantically attracted to male superstars and men who walked up and down the halls with me at school. But eventually I ran into a problem; I was born and raised Roman Catholic."
"I needed more than anything for church to be a safe place. They were the ones with the hope. They were the ones with the answers. Church should have been a place where I could come "just as I am" as the old hymn declares. But it wasn't. It was the most difficult, painful, and damaging place in my childhood."
"This is where the problem enters. The problem with me dating a woman wasn't that I was just trying to "do what I thought I was supposed to do," it is because I was deeply selfish."
"I knew, without a doubt, that I was gay. But, they had a point, how could I claim homosexuality without any sexual experiences?"
"Often times, we don't have a clue how to respond when a friend or family member comes out to us, whether it be as transgender, lesbian, gay, queer, bisexual, or anything else that catches us off guard."
I'm kicking off the year with a trip to Portland next week for the Gay Christian Network's annual conference. If you are going to be there, please let me know, I would love to buy you coffee and chat! Let's be real life friends.
There are big plans for this year, including working on writing a BOOK (what?!?!). But, we'll talk about that later.
Love and Cheers!
-Matthias
---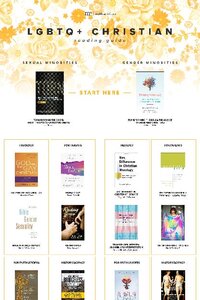 Get My LGBTQ+ Reading Guide!

Want to learn more but don't know where to start? This guide makes it easy.