For the past few weeks, I've been working on a project that I'm thrilled to be able to share. On Thursday, I'm going to be launching my first Faith and Sexuality Resource Guide.
When I first started exploring the intersections between faith and sexuality, there weren't many resources out there. It was next to impossible to find books and blogs that spoke into the big questions that I was asking. The ones that I did find were often full of shaky theology and strange claims. Thankfully, over the past few years, there has been a explosion. Yet, with everything that is out there, it can still be hard to weed through and find the good ones.
That's exactly what this guide does.
It's a compilation of the resources that have been most helpful for me in my journey. Combined in an easy to navigate format, it is full of what I consider to be the best of the best. The over 20 page guide includes sections on:
Blogs and Bloggers
Books
Media & Podcasts
Organizations
Plus, there's a section of my favorite forty people to follow on Twitter. These are people elevating the conversation around faith and sexuality every day. They're must haves on your Twitter feed.
I'll be the releasing the guide on Thursday morning.
Want it early? Those of you who are on my email list will get the full guide a day early. Not on my email list? Sign up before tomorrow night (Tuesday) at 5pm Pacific Time! All you have to do is click here.
I cannot wait to share this with you all. I'm sure these resources will be as helpful to you as they have been for me.
Until Thursday,
-Matthias
---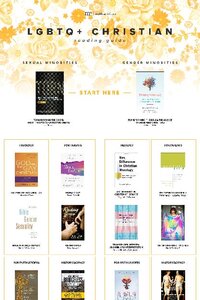 Get My LGBTQ+ Reading Guide!

Want to learn more but don't know where to start? This guide makes it easy.