This week, I was invited to join with pastors, faith-leaders, counselors, and psychotherapists for an online summit responding to the Association of Certified Biblical Counselors conference that is also happening this week. As a Christian, a gay person, a graduate student in psychology, and as a seminarian, I stand against what is being taught at the ACBC conference. While good intentioned, the teachings are promoting harmful narratives around sexuality and faith.
I'm thankful to be helping provide a counter narrative. From the Imago Dei Summit website:
"​As Christians, we feel that we have a moral obligation to speak the truth in the midst of this malpractice. It is time for Christian leaders to stand up for the LGBTQ people in our churches who are being taught the most harmful theology and receiving counsel from pastors and "certified biblical counselors" that teach them that their struggle with sexuality and gender identity is a result of sin, and can be healed, restored, or suppressed through prayer, therapy, and discipline. This isn't just another approach to sexuality and gender identity, it is patently false, disproven, and destructive."
I sat down with Brandan Robertson to discuss #ACBC15 and what healthy spaces for LGBT people might look like within the church.
Be sure to check out the rest of the Summit speakers by clicking here and share on your social media platforms!
---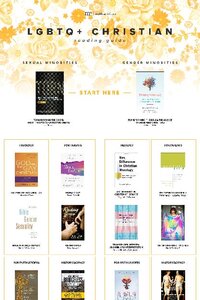 Get My LGBTQ+ Reading Guide!

Want to learn more but don't know where to start? This guide makes it easy.