A couple weeks ago, I announced that my blog is going to be part of One Book, One Church, a national summer book club. We're going to be reading Deborah Jian Lee's book Rescuing Jesus: How People of Color, Women and Queer Christians Are Reclaiming Evangelicalism, and I am *so* excited!
More details will be coming soon, but if you're interested in joining me in the book club, please go ahead and sign up here! We'll be reading through the book together as a blog community and participating in the larger national conversation around the book. Plus, Deborah has agreed to help with some special content just for those who are participating on my blog!
Sign ups have ended, but and go ahead and grab a copy of the book, if you don't own it yet!
Be sure to watch my conversation with Deborah here! And, for more information about the book club, check out this piece from Religion News Service.
I'm so excited to go on this journey together as a blog community!
-Matthias
---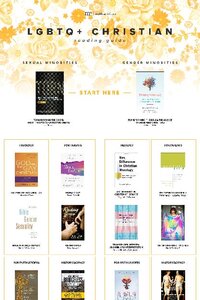 Get My LGBTQ+ Reading Guide!

Want to learn more but don't know where to start? This guide makes it easy.