On April 21-22, the Q Conference, an event bringing together young evangelical leaders from across the country, will be hosted in Denver. At this year's event, the topic of "gender dysphoria" will be addressed, as well as a number of topics pertaining to sexuality and gender. However, very few openly-LGBT+ Christians will be speaking at the event.
Thus, Nomad Partnerships is hosting Our Witness directly following the Q Conference to platform stories of LGBT+ Christians.
Our Witness will bring together 11 leading LGBT+ (and allies) Christian authors, activists, ministers, and speakers to share their stories and messages in 15 minute TED-style talks. We will then take an hour for open Q & A with our speakers and the audience.
I am so excited to have been invited to speak at this event, as well as Nadia Bolz Weber, Brandan Robertson, Eliel Cruz, Isaac Archuleta, and many more. This promises to be incredible.
If you're in the Denver area, or if you'll be at Q, come join us!
---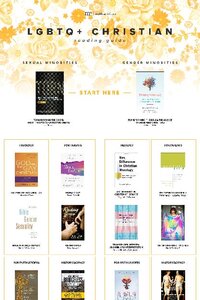 Get My LGBTQ+ Reading Guide!

Want to learn more but don't know where to start? This guide makes it easy.