"Before you walk through walls, you will learn to say goodbye."
-Katie Herzig
Last year, exactly one year ago (like to the day, tomorrow), I was offered my dream job at an up and coming design agency called Moxy Ox. I remember sitting in my room as a college sophomore dreaming of the day when I would be good enough to work for Moxy, thinking it was at least ten years off. Thus, when I got the phone call just a month after graduation, it was a huge deal. This was it, the pinnacle, a job that perfectly fit my two degrees. Better yet, I would get to work with some of the very people I idolized in the design community.
It has been an absolute blast.
Not many people get to step out of their college doors and almost immediately into a job that is everything they wanted and more. The experiences I have had at Moxy Ox still make me slightly giddy when I think about them. From getting to be lead-designer for Northwest Arkansas Fashion Week to working with incredible companies around the world, I have had opportunities that I would have never imagined.
Sometimes I wonder if I'm going crazy. This really is the perfect job for a designer.
But, out of all the things I have learned at Moxy, the one that has stuck with me the most is the realization that I don't want to be a full-time creative professional. It's something that I wondered about even in college: is this the life for me? I had caught hints of it, but I didn't know for sure until I actually dove headfirst into the field. This isn't it. It's a great life, one that I know I could be very comfortable in for years to come. But, I don't think that life is meant to be lived comfortably.
This past January, on a Tuesday afternoon in the office, our marketing director posted a quote on Moxy's facebook wall. It was really simple: "If you don't like where you are headed, change direction." It hit me straight in the gut. On my way home from work, I called my sister and spent the next two hours in a mini-crisis, pacing back and forth in my living room. "I don't like the direction I'm going! What do I do?!" My sister patiently and graciously guided me into something that I already knew. The only thing holding me back from pursuing a persistent dream that has been inside of me for over three years was myself.
There wasn't much time. Paperwork was due in two days, and as I talked through the decision with people who I trust, it became very clear. Now is the time. Circumstances have only confirmed that conviction.
In the beginning of August, I will say goodbye to Moxy Ox and hello to a whole new world.
I'm moving to Seattle to start work on a M.A. in Theology and Culture from The Seattle School of Theology and Psychology (formerly Mars Hill Graduate School, not affiliated with Mark Driscoll's church in any way). Here's a picture of the school! It's right downtown, a few blocks down from the Market, overlooking Puget Sound.
I'll be living downtown in an apartment a quarter of the size of where I live now (at three times the price). But, there's a Whole Foods within walking distance, so that makes it all okay.
I'm terrified. Yet at peace. This isn't the first time I've consolidated my belongings and moved thousands of miles away. It's probably not going to be the last.
Deja vu? Yes. Those of you with a keen memory will remember that I was thinking about doing this last year before the dream-job at Moxy came up. Same school, same degree, etc. Except, this time it's actually happening, with a much clearer vision and sense of purpose.
I wouldn't give up this past year for the world. It has been transformative and it's going to be extremely difficult to say goodbye. The relationships that I have fostered in the past year will last a lifetime. I have a family here in Siloam Springs and they are all pushing me forward. It's time to press into that.
In the words of one of my favorite artists,
"Hello Seattle!"
---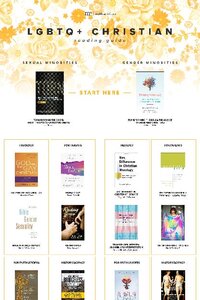 Get My LGBTQ+ Reading Guide!

Want to learn more but don't know where to start? This guide makes it easy.