New York Times bestselling author Rachel Held Evans joins me to talk about her process of becoming affirming, what she's learned about being an ally, and her new book, Inspired: Slaying Giants, Walking on Water, and Loving the Bible Again.
Rachel has been featured in the Washington Post, The Guardian, Christianity Today, Slate, The Huffington Post, the CNN Belief Blog, and on NPR, BBC, Today,and The View. She served on President Obama's Advisory Council on Faith-Based and Neighborhood Partnerships, and keeps a busy schedule speaking at churches, conferences, and colleges and universities around the country.
Rachel is married to Dan, and they have a two-year-old and a second child on the way. Her work can be found at her website, rachelheldevans.com. She's on Twitter and Facebook at @RachelHeldEvans.
Queerology releases every Tuesday and is produced with support from Natalie England, Tim Schraeder, Christian Hayes, and other listeners via Patreon. Join in the conversation on Twitter: @queerologypod and #Queerology. Subscribe right now and leave a review via your favorite podcast service! Here are the links:
Subscribe via Google Play Music
Until next week,
-Matthias
---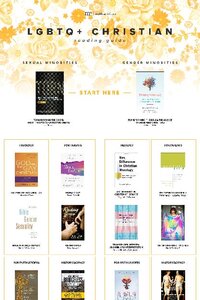 Get My LGBTQ+ Reading Guide!

Want to learn more but don't know where to start? This guide makes it easy.