Daneen Akers is a documentary filmmaker, writer, "cautiously Christian" seeker, and mother who believes deeply in the power of stories. Her film projects explore faith, identity, and belonging and include the feature documentary, Seventh-Gay Adventists, which screened at numerous film festivals around the world and Outspoken, a series of seven short documentary films about LGBTQ Adventists who are living out their faith and who they are in unique and compelling ways. Her new project is Holy Troublemakers & Unconventional Saints, an illustrated children's book with profiles and original portraits of 50 people of various faiths who worked for love and justice, even when that meant rocking the religious boat.
To find out more about Holy Troublemakers & Unconventional Saints, visit www.holytroublemakers.com. To watch Seventh-Gay Adventists and the Outspoken series, visit www.sgamovie.com. Daneen is on Twitter, @daneenakers.
Queerology releases every Tuesday and is produced with support from Natalie England, Tim Schraeder, Christian Hayes, and other listeners via Patreon. Join in the conversation on Twitter: @queerologypod and #Queerology. Subscribe right now and leave a review via your favorite podcast service! Here are the links:
Subscribe via Google Play Music
Until next week,
-Matthias
---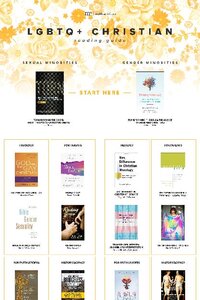 Get My LGBTQ+ Reading Guide!

Want to learn more but don't know where to start? This guide makes it easy.