Joel Hollier is an Australian former pastor who prominently taught that celibacy was the only option for LGBTQ+ Christians. As a gay man himself, he became a prominent voice in Australia promoting this view. Through many years of prayerful discernment, revisiting the Bible and discovering new ways of thinking, Joel's mind on this topic was slowly changed and he lost everything. Today, he is passionate about helping people see that their identity is most beautifully captured when we see ourselves as children of God, and that being LGBT can be a glorious part of this beauty.
Joel lives in Sydney, Australia and has degrees in Social Work and Theology. He is completing a PhD on the vital place of LGBT people in the evangelical church.
Joel's Bible + Faith + Sexuality project can be found at biblefaithsexuality.com. He also works with Equal Voices Australia, equalvoices.org.eu. He can be found on Twitter, Instagram, and Facebook, @joelhollier
Queerology is on Twitter and Instagram, @queerologypod.
Queerology releases every Tuesday and is produced with support from Natalie England, Tim Schraeder, Christian Hayes, and other listeners via Patreon. Join in the conversation on Twitter: @queerologypod and #Queerology. Subscribe right now and leave a review via your favorite podcast service! Here are the links:
Subscribe via Google Play Music
Until next week,
-Matthias
---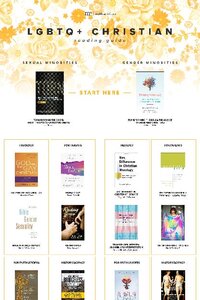 Get My LGBTQ+ Reading Guide!

Want to learn more but don't know where to start? This guide makes it easy.