Recorded live from the Brian M. Eckstein Podcast Stage at the 2021 Q Christian Fellowship Conference (via Zoom).
Join Matthias as he sits down with Coach Yeamah, a gifted teacher and coach who serves LGBTQIA+ Christians who struggle to make peace with their faith and sexuality.
Yeamah has built a beautiful community of queer believers and allies on Instagram, and she hosts a weekly live talk show and podcast that supports, inspires, educates, and encourages the community to live their full authentic selves as queer Christians.
Yeamah can be found at:
Queerology Podcast on Instagram
Queerology Podcast on Twitter
Beyond Shame by Matthias Roberts
Matthias Roberts on Patreon
Queerology releases every other Tuesday and is supported by its listeners via Patreon. Join in the conversation on Twitter: @queerologypod
Until next week,
-Matthias
---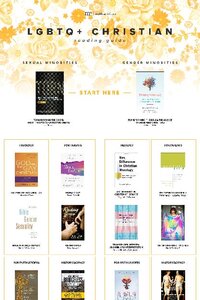 Get My LGBTQ+ Reading Guide!

Want to learn more but don't know where to start? This guide makes it easy.