Daniel Howell is known for his self-deprecating and sarcastic humor, but he has also spoken and written about his struggles with depression and sexuality. This mix of entertainment with the profound and deeply personal has given Daniel a devoted following of fans.
Daniel is one of the world's most popular and celebrated entertainers. He has written and produced comedy videos on YouTube that have reached more than one-billion views and millions of followers.
Also, Daniel has two #1 New York Times best-selling books, The Amazing Book is Not on Fire and Dan and Phil Go Outside, two stage shows with sellout world tours, and an award-winning BBC Radio 1 show.
Daniel's new book, You Will Get Through This Night: A Practical Mental Health Guide with consultation from Dr. Heather Bolton, is an affirmation and call to action. Daniel describes lessons learned in spite of failures, depression, and anxiety. Getting well was a completely unplanned journey.
Topics Discussed:
Faith and Identity: Agnostic Atheist – God probably doesn't exist
Be Happy: Christian or not, define your own meaning and purpose of life
Daniel's Depression: Understanding mental health and spectacular ignorance
YouTube: Vulnerability led to first example of being treated positively by humanity
Coming Out vs. Being Outed: Some kind of gay and that is okay
Practical Tips: Be present, feel comfortable, practice gratitude, and get help
Links and Resources:
Daniel Howell
You Will Get Through This Night: A Practical Mental Health Guide
Daniel Howell's YouTube Channel
The Amazing Book is Not on Fire
Dan and Phil Go Outside
Dan and Phil Radio Show
Masterclass: 4 Practices You Can Start Now to Move Beyond Shame
Queerology Podcast on Instagram
Queerology Podcast on Twitter
Beyond Shame by Matthias Roberts
Matthias Roberts on Patreon
Queerology releases every other Tuesday and is supported by its listeners via Patreon. Join in the conversation on Twitter: @queerologypod
Until next week,
-Matthias
---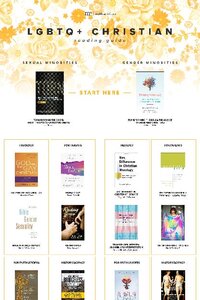 Get My LGBTQ+ Reading Guide!

Want to learn more but don't know where to start? This guide makes it easy.