"We are, we are, more than our scars,
We are, we are, more than the sum of our parts."
Mary Lambert's breathy voice filled the dark room in Houston and tears came to my eyes. The Friday night entertainment at this year's annual Gay Christian Network conference was a private concert from the one and only Lambert.
The tears in her eyes mirrored mine. As she shared her story of growing up gay within evangelicalism, heads nodded, and whispers spread throughout the room she's one of us.
"Look how bright we are,
Look at all the things we have come from.
Sometimes it hurts when you become them,
Sometimes I bury myself in my own wreckage and don't want to come out.
Which part of you is still in the wreckage?
Which part of you clipped your own wings?
Which part of you will begin at your own end?
Which part of you will you let live again?"
Her spoken word poetry intensified the tears in the room. Here we are, hundreds, over a thousand, of us. All gathered together as LGBT Christians to worship the God who we believe still loves us deeply. We are a group of people who have bared rejection and trauma at the hands of family, friends, and churches, and yet, we are still holding on to whatever threads of faith we can find.
Look at how bright we are.
Tears are not an uncommon thing at this conference for me. Last year, I learned to embrace them. This year, the tears were there, but they were different. I looked around during morning worship as we sang "Let go my soul and trust in Him. The waves and wind still know His name" and thought: look at what they are all missing out on. Our families. Our friends. Our churches. They are missing out on so much.
They're missing a part of the body.
They're cutting off a part of Jesus.
And that made me cry.
We talked a lot about what's next. What is the next step in our journeys as LGBT people of faith? Because, we've seen a lot of progress in the last year. We can now get married. We now have the majority of the church on our side. As Allyson Robinson, one of the keynote speakers, declared "we have won this culture war. But we still have work to do."
Because justice for one is not justice at all.
Justin Lee, executive director of GCN, stood on stage and declared the truth so many of us were waiting for: Black Lives Matter. Black Lives Matter.
We became silent as he admitted a great fear that so many of us have also thought: "If I weren't gay, would I even care about any of this?" If I weren't gay, would I even be aware of the systems of injustice that work against us? Would I be aware of the oppressive nationalism stitched into the Christianity of America? Would I even care? Or would I just brush it off labeling it "liberalism"?
It's Martin Luther King Jr. day. And we haven't come very far in the fight for justice for all. We have so much work to do. We were challenged to do this work, to speak up on behalf of the oppressed, not for them. We were challenged to not let our privilege make us feel guilty, but instead use it for the benefit of others who don't have our privilege. Intersectionality. Because, justice for LGBT people is not justice at all if our siblings of color are still oppressed.
And, church. We are inviting you to join us. Because we need you.
And you need us.
When we are together, as one Body, we are more than the sum of our parts. When we separate, divide, and exclude we cripple. We are the hands and feet of Jesus stumbling along in this world. I wonder, if we came together, would the Body walk a little bit stronger? Would our witness grow a bit greater?
It's overwhelmingly evident to me that God, Jesus, and the Spirit were deeply present at GCN Conference this year. It was difficult to walk around and not feel its presence. Softly, hovering over the congregation. And, once again, a rainbow appeared over the conference center. Great is God's faithfulness.
Look at how bright we are.
---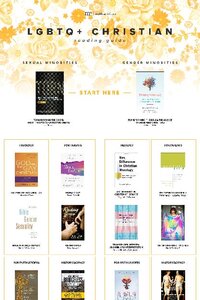 Get My LGBTQ+ Reading Guide!

Want to learn more but don't know where to start? This guide makes it easy.