Welcome to #SaturdayStories – a series that features stories from GLBTQ Christians around the world. I am so excited to be launching this series with a post from my friend Stephen Lovegrove. We met several months ago through a Gay Christian Network group that we are both a part of. Stephen is passionate about the church and its GLBTQ members. He hails from Charlotte, North Carolina and is a self described California boy at heart. He's a member of the Hillsong Leadership Network, a soon-to-be pastor, and a strong voice for the Human Rights Campaign. You can find his blog at stephenlovegrove.us. Also be sure to check out his inspiring video podcast: #StephenSoulTalks.
All I wanted was to feel safe.
Isn't that what all of us want? Especially as children.
I knew the realization was coming. All through elementary school, I had crushes on boys in my classes, but I wouldn't let myself admit what that meant. I knew that I only admired Hilary Duff as an idol and liked Aaron Carter a little too much, but I never spoke that out loud. I put off the realization as long as humanly possible.
Then, one day in sixth grade, I could avoid it no longer.
GAY.
The word hit me like a ton of bricks, and this time, it was inescapable. I was gay. Gay described me. That word was a part of me.
I was terrified. And all I wanted was to feel safe.
I guess it's not a surprise that I didn't feel safe in the locker room where I got bullied. It's not really a surprise either that I didn't feel safe at dances full of straight couples. But church, surely at church I could feel safe right? With God, our refuge and help in times of trouble?
About a week after making this realization, I attended my first church discipline meeting. My parents are members at a very strict fundamentalist church in South Carolina.
In this particular meeting, a volunteer had come out of the closet and written the church a letter telling them he was gay. The church addressed the situation in a public church-wide meeting.
Maya Angelou famously said, "I've learned that people will forget what you said, people will forget what you did, but people will never forget how you made them feel."
When I reflect on that meeting, I remember all of it. I do remember what they said – that this was an abomination, that he was going to hell, that we should be careful to not end up like him. I do remember what they did – kicking him out of the membership, banning us from talking to him or hanging out with him, publicly disowning him as a brother in Christ.
And yes, Maya is right in that I most remember how I felt.
Ashamed. Guilty. Scared. Confused. Angry. Humiliated. Terrified. Alone.
I vowed to myself in that moment that I would never talk about my sexual orientation to anyone. I made crazy promises to myself. "You will check into a mental hospital before you ever tell anyone. You will move to a foreign country before you admit to someone that you are gay." Even this one, which I hesitated to write here: "You will take your own life before you ever come out of the closet."
Thankfully, I broke those promises. Some vows need to be broken.
But it took five years. Five years before the word gay ever came out of my mouth, and even then, it had to start with a complete stranger online – a stranger who, for the first time in five years, made me feel safe.
I needed more than anything for church to be a safe place. They were the ones with the hope. They were the ones with the answers. Church should have been a place where I could come "just as I am" as the old hymn declares. But it wasn't. It was the most difficult, painful, and damaging place in my childhood.
I can't change what happened there. I can't erase what was said and done and felt already. But today I can ask for your help.
My plea to you is very simple: Create safe space wherever you are. Especially those of you in faith communities. Allow people to be honest. Encourage people to ask questions. Welcome with open arms every person who walks through your doors wherever they are in their story.
At the end of the day, we all want to know that we are safe.
---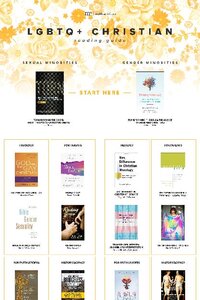 Get My LGBTQ+ Reading Guide!

Want to learn more but don't know where to start? This guide makes it easy.