This story is written by a friend of mine who wishes to remain anonymous because she hasn't come out yet. I asked her to write about what it is like to be in the middle of conversations without people knowing that she is gay. We need to be careful with our words – we never know who may be in our midst.
___________
"Is he…gay?" he whispered as though it were a diagnosis of the bubonic plague.
"I don't understand how someone could choose to be that way," she said with more disdain than actual confusion.
"She doesn't want him around them because they are gay," my own mother said.
I've listened to these conversations my entire life. I've even participated in some of them. I always said it was a choice, even though I knew I couldn't change how I felt. I've always sat back and listened to people talk about it and never had the courage to say anything.
Being gay and being a Christian scared me so much that I've stayed in the closet and just dealt with what people said and even agreed with them sometimes just so I could keep my secret.
As I've gotten older, I've started to realize that I want to live my life. My REAL life, not the lie I've created to hide who I really am. My faith is as strong as ever, but I still haven't told anyone. I still listen to people talk about being gay as though it is some sort of curse. And, I still don't say anything.
But something is different now that I have accepted (for the most part) who I am. It hurts. It hurts when people say these things. It hurts because I don't say anything to correct them or to try and explain to them how this really works.
When I think back on previous interactions with people, I hurt. I hurt because I feel like I could have made a difference. I feel like being a Christian and being gay can actually be a blessing. I can approach future situations like the ones I am about to tell you, and explain to people what it is really like.
FRIENDS
My friends and I spent many hours standing in line waiting for football games or sitting around eating chicken wings talking about hot button issues.
One night while we were camping out by the football stadium about five or six of us got on the topic of homosexuality. I tried my best not to squirm or sweat too much. At this point I was really struggling with my sexuality and what it all meant.
I listened to them talk about how disgusting it was and how much of an abomination it was. How God clearly hated it. The Bible says so they would say.
And I piped in, "It's a choice! A choice people can struggle with just like drugs or alcohol." I said that trying to convince myself that it was a choice more than I was trying to agree with them.
It got me a lot of approving head nods. You know the one. The one old men do in church when the preacher says something they agree with. The slow, up and down motion with the occasional "Yea."
But, as I listened to them talk about how they feel sorry for gay people and how they pray for them, something deep inside me stirred. I didn't need their pity. I wasn't broken. It made me feel uncomfortable that they thought I needed healing. But I didn't dare say anything. I just sat back and gave the occasional head nod, lost in my own thought.
FAMILY
I have slowly been visualizing how I would tell my mom now that I've finally found myself. I have no doubt she would be shocked and, at first, probably not too happy. But, I know she will love me no matter what. She has always told us that.
Just the other day I called her to just shoot the breeze while I drove home from work. We got on the subject of the family and how it's kind of different without her and me there (we don't live in the same town as the rest of my family). They kind of stopped getting together for holidays and my sister even missed Christmas with them.
I asked her how my sister was doing and she told me she had gotten distant and how they never really saw her. Somehow we got on the discussion of my sister and my cousin who is gay and living with another woman.
"She doesn't want him (my nephew) to be around that," the words dropped like an atomic bomb in my soul.
It broke my heart. I kept my cool and just let out an exasperated, "Why?"
"She's just uncomfortable with it," she said. In that moment I wanted to call her and explain to my sister what it was like. I wanted to tell her how I felt and how I think. I wanted her to understand. But, I couldn't.
I had known she didn't really like it. She had told me before that she thought it was weird, but I thought once my cousin showed she was serious and that they were in love, she would see that it wasn't weird. I thought she would learn that people can't help who they fall in love with.
I have two sisters. The other one is no better on the issue. A few months ago we were talking about my cousin and she thinks it's "gross." She says she doesn't understand how people can do "that." I sat back and listened and let out the occasional, "yea." All the while thinking to myself, "How can I do this?"
What happens when I tell them? Do I lose them both or will I actually be able to change their minds?
The thought of her keeping my nephew from me or the other sister thinking I'm gross haunts me.  What if I come out to them and they hate me for it?
I grew up in a Christian family, so telling everyone else would be interesting too. But, I hope I can help them see a whole other side to this issue. To see that God doesn't hate anyone.
CO-WORKERS
This is the hardest one for me to listen to. They have no idea how I feel so they talk freely.
Very freely.
We have a new employee who is gay and she is kind of flirty with the female employees, but no more than a straight guy would be to any girl. Recently we talked about it and another girl brought up how uncomfortable it made her feel. How it was disgusting for her to do that.
The conversations always take a sexual turn. As though everything the gay employee does is gay, and sexually charged. She can't even come up and say hello without them thinking she wants to do explicit things to the girl. It was really frustrating to listen to them talk about it, in low whispers, like it was a crime to be flirty.
I want to scream, "WHY? Why does everything she does make you think she wants to sleep with you?"
Most of the time she just comes up to us to talk. To say a few words and chat before she has to go back and stand by herself by the door. How they get all of the other stuff out of that is beyond me.
Why do they automatically jump to the conclusion that every gay person just wants to have sex with everything that walks?
They make jokes that are disgusting and really stereotypical. Lumping everyone into the same group. Gay to them means sex.
Hello people, just because someone is gay, doesn't mean they automatically start hitting on you if you are the same sex. They may not even find you attractive.
I could explain to them what it really means. That it's just attraction. It just means that I am attracted to the same sex. That some of us are actually just like you.
Heck, if I told them I was gay they might laugh and think I was joking. They have heard me talk about my faith. They think because I am a Christian I would never be gay.
One guy was talking about how many gay employees there were in the store and he said, "One in five people are gay you know."
Then he said, "I'm not, you're not and I know you're not (pointing at me)."
If my face wasn't red in that moment, I don't know how. I didn't say a word. I just stood there and he kept on his little game of guessing who was gay and who wasn't.
---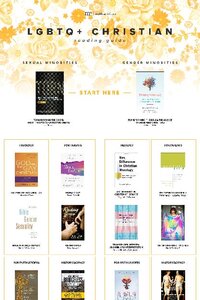 Get My LGBTQ+ Reading Guide!

Want to learn more but don't know where to start? This guide makes it easy.