Today's guest, Samuel Brinton, is a person who never ceases to amaze me. When he's not working on his dual masters degrees in Nuclear Engineering Technology & Technology and Policy at MIT, he can be found walking the halls of Congress and the EU advising many of our world's leaders (often in a pair of heels). He is an activist for LGBTQ people, recently being awarded the 2014 Courage Award from the National Center for Lesbian Rights, and is at the forefront of the effort to end conversion therapy.
Despite all of his successes, Sam has had a difficult life. We grew up together – we went to the same youth group, were in the same homeschooling collective, our houses were mere blocks from each other. We have such similar stories, yet had vastly different experiences coming out to our parents…
When considering the topic of my faith and sexuality I think of the time in my life when these two worlds were at the greatest of odds. As a young man, I had been raised as a Christian with a passion for sharing God's love with those in my neighborhood, city, state, country, and across the globe.
Just prior to entering middle school, I told my parents that I was attracted to my best friend, who happened to be male.  I was too young to understand why this was wrong or that anyone would have a problem with it.  After beatings from my father failed to work, and at the beckoning of our church, I was placed in conversion therapy.  The therapy began with what can only be described as mental torture at the hands of what may or may not have been a licensed therapist.  I was told that I was alone.  I was told that I was sick. I was told that God hated me.  The mental pain this caused is something I cannot fathom going through again, and yet thousands of youth across the country are placed in this situation every year.
When mental abuse was not sufficient to change my sexual orientation, we moved to what can only be called physical abuse.  My hands were tied down and ice was placed on my hands as I was shown pictures of men in physical contact; this was to associate pain with the touch of a man.  Similar to Pavlov's experiments with dogs, this was torture in its worst form.  Later sessions would include electric shocks to my hands as I was shown sexually explicit pictures of men; again to associate such behavior with pain.
I would attempt suicide several times, with the one of the later attempts being a plan to jump from the roof of my house.  My sister realized what was happening and told my mother.  She came to the window and told me if I could just change, she could love me again.  In that moment, I decided to lie and tell her I was changed.  For a while the torture stopped and my life returned to some degree of "normality".  It wasn't until college that I was able to come out and begin my life being who I am.
For more information about my experiences, I have several interviews that are available on YouTube such as this one.
This torture continues to have repercussions with youth, but it doesn't have to continue.  You have the chance to save LGBT youth from ever having to experience what I went through.
I tell you the story of my conversion therapy not for dramatic effect but to explain why sharing our stories is so desperately needed as queer people of faith. I cannot let another child go through that torture because their parents think this is the only way to have a normal child. My parents did this hoping to save their child from hell but it was not until I was much older that I could understand that God wasn't sending me to hell for simply loving who I loved.
Raise this conversation with your peers. In 48 states what happened to me is legal. If God calls on us to love Him and His children then I call on you to bring this message to the state houses across this country to protect LGBT youth.
---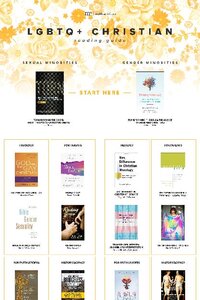 Get My LGBTQ+ Reading Guide!

Want to learn more but don't know where to start? This guide makes it easy.