I first heard about Jeremy Bork when I was reading through my twitter feed. A LGBTQ faith group that I follow featured a film project that Jeremy had led and I was intrigued. Then, I found out that he attended Northwestern College in Orange City, Iowa (a college I considered going to + Iowa is my home state) and I knew I had to get this guy on the blog. Jeremy is beginning studies at Western Theological Seminary this fall and is seeking ordination in the Reformed Church in America. Having been silenced and mistreated by multiple Christian communities upon coming out, he feels compelled to give a voice to the ignored and to challenge the church to ask what it really means to love one's neighbor as oneself. Check out the short film he created for the organization Room for All called "Room for Me?".
---
As someone who claims the name Christian, I make every effort to walk in the way of Jesus: to live, to love, to learn, to teach like Jesus. When I think about how Jesus interacted with his followers, I'm reminded that he didn't speak in five-point sermon lessons; he told stories. When he wanted to persuade his audience, he didn't tell his listeners what to believe; he told a story. When the Pharisees tried to trap him with hard questions, he told stories. Why? Because stories have the power to transform lives. I am compelled by the storytelling Jesus to tell my own story and invite others to do the same.
In the fall of 2013, I was contracted by Room for All to start a video project inspired by a vision of a storytelling church. I spent 7 months inviting 26 LGBTQ Christians in Reformed Church in America contexts to share their stories. I sat down with each person and asked questions that allowed the freedom to share what needed to be shared. After months of collecting hours of responses, I produced an 18-minute short film. "Room for Me?" is a creative collection of the stories of God's children that too often get ignored.
Since the release of the film, I've been continually surprised by the power of story. I've received emails from closeted LGBTQ Christians across the country. I've received requests to speak on radio stations, podcasts, and blogs to talk about the release of "Room for Me?" in addition to my personal journey of reconciling faith and sexuality. Pastors have reached out for a variety of reasons: some are personally open and affirming but struggle to invite their congregations to do the same while others are genuinely theologically conflicted but found the stories to be honest and challenging and important.
One of the men in the film wished to remain anonymous. Having "lived his whole live in service to the church" he was worried that somehow his entire ministry could be tainted if people knew he was gay. He eventually agreed to share his story because he recognized how important it could be for someone in a similar position. And that's the beauty of these stories. They connect us. They bring us closer together. They remind us that we're all on a journey to love and be loved. Stories affirm the truth that we belong. Three days after the release of the film, I received an email from the gentleman with the blurred face. After viewing and reflecting on the film, he has decided to come out to his siblings. Considering his hesitation in agreeing to be part of the film, this is huge. Praise God from whom all blessings flow.
Since the beginning of my journey walking in the way of Jesus, I knew stories were important, but I was not aware how powerful they could really be. I believe stories have the power to transform lives. I believe stories are worth telling. I believe stories are worth hearing. If you are part of the LGBTQ community and you've been hesitant to share your story, I want to encourage you to tell it. If you haven't heard an LGBTQ person of faith share their story, I encourage you to start with "Room for Me?" and find other ways to hear the stories of those in your communities.
As I write this I'm sitting in a gymnasium with a few hundred RCA leaders who are trying to make decisions that reflect the life of Jesus and the movement of the Spirit. This year at General Synod there are a number of times we'll be voting on issues relating to human sexuality, marriage, and LGBTQ inclusion. As I listen to pastors make naïve and hurtful comments, I wonder how the tone of the conversation would shift if each delegate were able to hear the stories of those these decisions will affect. I wonder how conversations in local congregations would change if each person could have lunch with an LGBTQ Christian. I wonder how comments would change if non-affirming Christians had to look an LGBTQ person of faith in the eye and tell them what they're willing to say to their like-minded friends.
I find myself wishing that these stories could be heard because I believe stories have the power to transform lives. Yet I am hopeful because I'm reminded of the mystery of ripples. Of all the elements of story, I think the most powerful element is the power in the ripples. The effects of sharing are beautiful and messy and can't be controlled. When we take the leap to tell our story, we can't control how it will be received and how it will be shared. Like Jesus, we leave it to the Spirit to work in the hearts of the listeners trusting that the sovereign God is in control.
---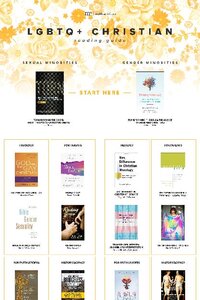 Get My LGBTQ+ Reading Guide!

Want to learn more but don't know where to start? This guide makes it easy.