After spending the summer moving across the country, I've finally had the time to put together a great lineup for this new Stories series: Tuesday Tales (which, used to be Saturday Stories…..I'm a fan of cheesy alliteration). Each week, I'll feature a story from LGBTQ people of faith from around the world. May you see yourself in these stories.
Today, we are starting off with Patrick McCoy. Patrick lives in St. Louis, MO and is a member of the Roman Catholic Church. During the days, he spends his time working at the St. Louis Zoo and at night you can find him hanging out with his two dogs, Pumpkin and Shadow. Patrick is planning on returning to school soon to finish up a degree in Music Performance.
Trigger warning: sexual abuse + sexual addiction. This story may not be suitable for younger readers.
---
As a small child, I didn't really have any idea I was gay. I didn't even know what the word meant. But as I grew older I started to realize I was attracted to the male figure. I found myself romantically attracted to male superstars and men who walked up and down the halls with me at school. But eventually I ran into a problem; I was born and raised Roman Catholic.
At first this didn't matter. In my middle school years like most boys I walked around perpetually horny thinking constantly about how much I wanted to marry Jesse McCartney and have his babies. My faith didn't matter to me at that age, but when I had a conversion experience my sophomore year of high school, the question of faith and sexuality became something critically important. I learned the teachings of the church and was confused at first, but I had such a strong Catholic group of people around me and people telling me the beauty of the church's teaching that eventually I bought in. It all made sense. God created man and woman in his own image, he created them with a specific purpose in mind, and there were just some things that two dudes or two ladies couldn't do that a man and a woman could. I was told that marriage could only be for a man or a woman, and that sex was a sacred and awesome gift from God intended to be within marriage. I was taught that all sexual acts had to be open to giving life. I bought it, and I was happy. I didn't feel at the time I needed a man or a woman for that matter. I felt perfectly ok with the idea of living the single life or becoming a priest. At least, Dr. Jekyll did.
Mr. Hyde however had other plans. On the outside I was a devout Catholic living out the teachings of the church. Underneath, I was a total mess. A ravenous hunger for sex began in high school with one little innocent make out session in a school restroom during chemistry class with the hottest guy on the cross country team. Yes, it really was chemistry class. I can't make this stuff up. But that left me wanting more and more, and it left me quite conflicted.
By now you can see where the story goes. It's the classic story of a socially conservative male with a dark secret. I stopped counting the number of men I slept with pretty quickly. It also got very dangerous very quickly. It wasn't just people I knew, but it was people I was meeting on the internet. On one occasion one of these men blackmailed me saying he would tell everyone I knew my secret unless I slept with him again. That man raped me. But even being violated like that didn't stop me. I remember when I was driving away afterwards, I kept saying to myself, "This didn't happen, this didn't happen," and I pretended it didn't happen until I couldn't remember it happening. Only recently have I found the memory in my brain and began to process it.
I kept going on with the compulsive sex into college, by which point the practice was seriously affecting my GPA. The freedom of college had me up night after night without sleep desperately looking for sex. I missed class, I missed homework, and I was failing tests. I went through a brief period of dating guys, believing that maybe God could bless same sex relationships, but that only lasted a year, and I cheated every time. I've never had a relationship that lasted more than 3 months. For 3 and a half years I managed to barely keep things together until last winter when my addiction got me an F in 4 classes. It was at this time too that I realized I could no longer hide from the truth my faith taught me. I realized I had been living a lie. I was never comfortable in a relationship because I knew when it came down to it, I couldn't marry a man in good faith. I took a year off, during which I've held down a job, gone through rigorous group and individual therapy, and taken many steps to ensure that my actions and my beliefs are in line. I'm a much different man than I was a year ago, and I'm ready to go back to school.
So why don't I just give in? Why don't I embrace my sexuality and my desires? Why don't I end the misery? Because I'm Catholic to the core. If you take the entirety of the teachings and beliefs of the Catholic Church, the one thing that really bugs me is this. This is the only thing. And the rest of what the church offers me isn't worth losing. I believe that when I receive Holy Communion that I am in fact receiving the very body and blood of Christ. I believe that when I walk into the confessional to tell the priest for the hundredth time that I have once again been unchaste, I am also confessing to our Lord Himself. I believe that Mary is awesome and I pray for her to intercede on my behalf before the Lord. When I have a question, the church has an answer that fills me with life and gives me hope. How can I walk away from that? Dare I walk away from the mouth that feeds me? Dare I leave the God who loves me, who has so clearly called me here? I can't. I tried for a short time when I was dating guys. I watched sermons and read articles and convinced myself that I could marry a man and have a healthy sexual relationship with a man, but I came back to the teachings of my Catholic faith and I found life, hope, and support instead of repression. I saw a church that recognized I was in a difficult situation, and a church that was willing to help me make the difficult journey and give me the tools I need.
Today I consider myself "Side B" for those who know the Gay Christian Network terminology. I believe that God calls me to love my brothers and sisters fiercely. My friends know there isn't a thing I wouldn't do for them. I believe God calls me and everyone to chastity; that is, keeping sex within a marital relationship between a man and a woman. But I also believe I am not called to loneliness. I believe I am called to love in ways that perhaps married people can't. Whereas a married person has responsibilities to a spouse and to children that take up so much of their time and energy, I have the time and energy to enter into deeply loving and special friendships with the people around me. I believe I am called to love especially those who disagree with me. Some of my very best friends are the people who disagree with me on this very issue. Some of them are even actively fighting back, but these people will testify that I love them fiercely and I depend on them.
I close with my theme song, Ubi Caritas. Ubi Caritas is an ancient hymn of the church that is sung during the washing of the feet ceremony on Holy Thursday. Its placement at this ceremony in the Holy Thursday liturgy is a reminder to me that Christ walks the difficult journey with me. He has not come to be served, but to serve. He is holding my hand. He is carrying me. It is a hymn that reminds me every day of the kind of love that I am called to as a Side B Gay Catholic Christian. It reminds me that love comes first above all else, and in the light of God all of our divisions cease to exist.
Where charity and love are, God is there.
Christ's love has gathered us into one.
Let us rejoice and be pleased in Him.
Let us fear, and let us love the living God.
And may we love each other with a sincere heart.
Where charity and love are, God is there.
As we are gathered into one body,
Beware, lest we be divided in mind.
Let evil impulses stop, let controversy cease,
And may Christ our God be in our midst.
Where charity and love are, God is there.
And may we with the saints also,
See Thy face in glory, O Christ our God:
The joy that is immense and good,
Unto the ages through infinite ages. Amen.

---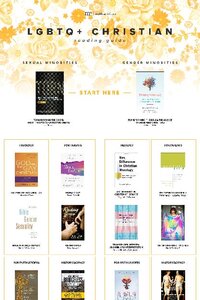 Get My LGBTQ+ Reading Guide!

Want to learn more but don't know where to start? This guide makes it easy.