Y'all, I have some news for you that I'm super excited about. I spent most of my night last night tending to the butterflies that have moved into my stomach (in between some really strange dreams centered around pie…).
Ready?
I'm not really one for spreading out news in order to hype up anticipation.
At all.
I just got the final confirmation. I'm leading a workshop at the 2016 Gay Christian Network Conference in Houston next month!
My breakout session is focusing on actionable ways to create safe-spaces for sexual and gender minorities within faith communities. Sound boring? Think of it more like story time with me and a few friends, with some psychological and neurobiological research sneakily thrown in.
I hope to see all of you there! And be sure to come introduce yourself and we can have that awkward "I read your blog" conversation.
For those of you who are involved in GCN, you know how amazing this conference is. It's the largest gathering of LGBT christians in the world — I think they're expecting around 2,000 people this year. Last year was the first time I went, in Portland, and I spent most of the weekend in tears. The experience of gathering with so many other people who are living at the intersections of faith and sexuality is profoundly moving.
This should only confirm in your mind that you need to be there. Plus, did I mention Mary Lambert is doing a private performance Friday night?
January 7-10, Houston, TX. Check it out and register by clicking here.
But wait, there's more.
I've been working closely with my friend Eliel Cruz to develop a logo and merch for his #faithfullyLGBT brand. We're going to be selling some of that at Conference! Check out these two tee shirts and be sure to visit the #faithfullyLGBT booth in the exhibit hall!
There's even more.
Last week, my friend and fellow blogger Kevin Garcia released his new ebook "So Are You A Practicing Homosexual? And Other Things I Wish You Would Stop Saying." I'm such a fan of Kevin's work and was honored when he asked me to contribute a chapter to the book. He's giving it away for free over at his blog, so go get it by clicking here!
Whew! That's a lot.
I look forward to meeting so many of you in Houston. If you haven't registered yet, do it now!!
---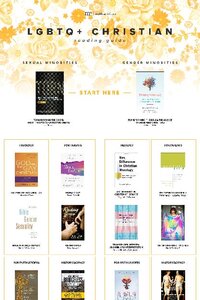 Get My LGBTQ+ Reading Guide!

Want to learn more but don't know where to start? This guide makes it easy.