If you are at all familiar with conversations happening within faith communities around LGBT people, then you've probably run across Alan Chambers and/or the organization he used to be president of: Exodus International. Exodus was the largest ex-gay organization in the world.
A couple years ago, Chambers made the decision to close the doors on Exodus saying: "For quite some time we've been imprisoned in a worldview that's neither honoring toward our fellow human beings, nor biblical…From a Judeo-Christian perspective, gay, straight or otherwise, we're all prodigal sons and daughters. Exodus International is the prodigal's older brother, trying to impose its will on God's promises, and make judgments on who's worthy of His Kingdom. God is calling us to be the Father – to welcome everyone, to love unhindered."
In the past couple years, Chambers has gone through a transformation, and his new book "My Exodus: From Fear to Grace" (co-authored with his wife Leslie) is a memoir of his life, his realization of the true impact Exodus was having, and what has come after his momentous decision to shut down the organization. This week, he took a few minutes to sit down with me for my new monthly series "5 Questions With":
In this fifteen minute interview, we talk about:
Advice for people who are realizing their own impact and are trying to navigate deep change
Looking back at the past while moving forward
The isolating effect that change has
Our need to fit everything into neatly defined boxes
What Alan would say to his younger self
Be sure to pick up a copy of Alan's new book now in bookstores everywhere!
---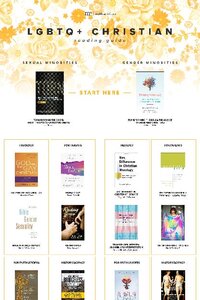 Get My LGBTQ+ Reading Guide!

Want to learn more but don't know where to start? This guide makes it easy.