Several weeks ago, I flew down to Denver to speak at Our Witness, an afternoon event that highlighted the stories of LGBT+ faith leaders. This event was a response to Q Denver, a evangelical TED style event that featured conversations about LGBT people without actually having many LGBT people present. They were talking about us, without us.
Our Witness also followed a TED style format. My 15 minute talk opened the event, directly after a benediction from Nadia Bolz-Weber (talk about a tough act to follow…my heart was racing!) Since so many people from so many different backgrounds were at Our Witness, my hope was to bring us all together by looking at each other and asking "what if we are all doing the best that we can?" With a little help from Brené Brown, I looked around the room and asked us all to wonder: "what if God is working in these lives too?"
Here's my talk. I'm also including a transcript below. Be sure to watch the rest of the speakers from Our Witness as well! It was such a powerful afternoon.
TRANSCRIPT:
Will you all pray with me?
May the words of my mouth and the meditations of my heart be acceptable and pleasing in your sight, oh Lord, my rock and my redeemer.
On my flight over here I was still wracking my brain for what I was going to talk about. I had an idea — I could go the theological route and talk about my three and a half year journey studying Scripture and every single book I could get my hands on about faith and sexuality, from every angle I could find. I could talk about the theological tipping point for me, diving into a study on what sin is, and what it took to hold up my non LGBT affirming theology to my concepts of sin. But, that didn't feel quite right to me.
I was leaning towards the psychological route, sharing the research that I've been doing as a graduate student at The Seattle School of Theology and Psychology. I was going to talk about attachment theory — one of the most well documented and researched theories in all of psychology. It's the idea that the relationship we had with our parents in our very early years of life dictates the ways that we interact with people in our adult lives, and these are called "attachment styles". A large percentage of the world's population have insecure attachment styles. One of the primary goals of a therapeutic space is to move people from insecure attachment to "earned secure attachment." In my work at The Seattle School, I've wondered if it's possible to move the other direction. If someone, let's say a teenager who has a secure attachment to his parents experiences a dramatic shift in the way he interacts with his parents, might that change one's attachment style? Say he walks downstairs one morning and tells his parents that he is gay, and they respond negatively because of their faith, and then they continue to respond negatively, could that change his attachment style from secure to insecure? The answer is yes — it can and does happen — and from the research, it happens often within Christian homes when LGBT youth come out, wreaking havoc on their lives and their future ability to connect with people. I was going to talk about that and share stories and experiences. But, that didn't quite feel right to me either.
As I was waiting for my flight to take off, breathing heavily after running through the Seattle airport because the security line was much longer than expected, I picked up the book that I've been slowly working through over the last few months: Rising Strong by vulnerability and shame researcher Brené Brown and read something that clicked. In Chapter 6, she tells a story of a particularly frustrating experience with a person that left her fuming for days. As she was venting to her therapist, her therapist asked her "Brené, do you believe that people are doing the best that they can?" The question made her really angry. And it made me pause.
Do you believe that people are doing the best that they can?
And that made me wonder. Do *I* believe that people are doing the best that they can? Here I am flying to Denver to talk to a crowd where many people believe that I am living my life in a perpetual state of sin. I am walking into a conversation where I am perceived as being deceived, biased, and blinded by my sexual orientation. Where every word I say is taken with a grain of salt and a healthy amount of suspicion. And I asked myself. "Do *I* believe that these people, you people, each of you who are sitting in this church on a Saturday afternoon listening to the stories of LGBT Christians, are doing the best that you can?" I thought about that for a moment and my answer was pretty easy, "I mean, they're here, yes, I would imagine most of them are doing the best that they can, regardless of where they are on the theological spectrum." Then another thought entered my head, "What about everyone else at Q? What about the speakers? What about the people who have written books on how to respond to me with 'compassion and love' without affirming my apparent 'lifestyle choices'?" What about all the people who planned Q — a conference that has been critiqued over and over and over again for their oppressive and silencing approaches to LGBT people. Are they doing the best that they can?
The moment that question entered my head, my defenses went up. "No. They're not doing the best that they can. These people follow LGBT Christian activists on Twitter, they engage with us often, yet they still insist on promoting deeply harmful approaches to theology as a way to deal with 'the sexuality and gender problem.'" Are they doing the best that they can?
As almost as quickly as my defensive voices, the voices that speak absolute certainty and absolute skepticism entered my head, another voice quietly peeped up. "But what if they are?" What if they genuinely are trying to approach me with love? What if they are doing the best that they can in order to hold what they believe about Scripture and what it says about gender and sexuality and engage with me. What if they are doing the best that they can?
I kinda hate that. Because every part of me wants to scream out and say "but they're not doing it well!" I want to stomp around on this stage and deliver a powerful proclamation that will convince you without question that things absolutely must change in our churches. But, I can't do that. Because I know that no matter what I say, no matter how many statistics I cite, or different theological approaches I offer, I cannot convince any of you to change your minds. It doesn't work that way.
What I can do is stand here and quietly ask you all a question. A question that has been bothering me because it disarms me and shows me who I am. You all are about to hear stories and messages from nine of my LGBT siblings. You are about to hear about our lives trying to hold together two worlds that we are told over and over again cannot mix. And, as I prayed over this talk and tried to figure out what I wanted to say, all I was left with is the question that Brené's therapist asked her. I want to ask it to you: "Do you believe that people are doing the best that they can?"
Do you believe that *we* are doing the best that we can? Do you believe that transgender, bisexual, lesbian, and gay people who are stubbornly clinging to our faith in Jesus, are doing our absolute best to live our lives as followers of Christ?
If you feel your defenses rising, those voices of absolute certainty and absolute skepticism taking over, "of course they're not" — I ask you to wonder along with me: "what if we are?"
A couple of years ago, I wrote a blog post for a big faith publication that was met with a flurry of negative responses, mostly from people who disagreed with me. One person, in particular, started attacking me with vengeance. This woman, a mom that was part of the homeschooling group that I went to growing up, used everything she could to take me down. I sat there, reading her comments, and was stunned. I didn't know how to respond, I couldn't decide between going full force back at her, or curling up in a ball and crying. As person after person read the comments and reached out to me saying that it was probably time to set up some boundaries, I fought with the bitterness that was gripping my heart. This wasn't the first time this woman had interacted with me and I had stuffed so much hurt down in order to maintain a civil tone.
That afternoon, or the next day, I can't remember, I talked to my mom on the phone. I told her about what was going on — my parents were living in Romania at the time as missionaries and didn't have reliable internet. My mom sighed, paused, and I could tell she was struggling with her momma bear emotions wanting to rage. Then, she said, "you know Matt, sometimes we just have to trust that God is working in her life too."
I felt something soften within me. And I wondered. "Do I believe that God is working in this woman's life?"
Well.
Okay then. How about, "Can I *choose to trust* that God is working in her life?" Can I choose to trust that the very One who is the author and finisher of my faith, is authoring and finishing her faith? When I am looking at someone who genuinely makes me wonder how in the world they can call themselves a Christian and trust that, maybe, just maybe, the Spirit is moving there too?"
Can I trust that she was doing the best that she could?
As Brené Brown began to do research around this, wondering "who in the world actually believes that other people are doing the best that they can?" She found that those who hold this belief about others do not discount the fact that there is still room for each of us to grow. In fact, it can sometimes make us even more aware of the where growth needs to take place. This belief about people, that people are doing the best that they can, is not a position of cynicism or even compassion. It is not, "oh, look at them, they're doing the best that they can." It's a choice to look at the people around us, the people that we ardently disagree with, the people that we find infuriating, and see them as people who are living life the best way that they know how. It is not an excuse, it is not a glossing over, but it is a position of grace.
And this is where I think a distinguishment needs to be drawn. Because there is a difference between seeing people as as love projects and believing that people are doing the best that they can. A couple weeks ago, I wrote a blog post that was picked up by HuffPost Religion. I opened my browser to find that the editors had chosen to feature it at the the top of their page. In big, bold, letters my words were screaming out to the expanses of the internet "I don't want your unconditional love."
In it, I describe the all too common occurrence of being invited to coffee by someone who wants to "get to know me" but pulls a bait and switch. I ask, "Why are you trying to get to know me? Do you truly want to know me? Or do you just want to change me? When you go home and talk about me to your friends, do you use me as an example of how you are reaching out to a specific group of people? Are you impacted by me at all? Or are you searching my words for reinforcement of your pre-established thoughts about the state of my soul? Are you willing to learn from me? Are you willing to loosen your grip on the truth that you so desperately are holding on to? Are you willing to laugh with me? Celebrate with me? Cry with me? Are you willing to put your ideas about me on the shelf and embrace me?
Or will we just sip coffee with our tense shoulders?
Here's the distinction. When I am a project, when I am "someone to be loved", I feel like you are approaching me from a position of superiority — as if you are saying, "I don't agree with you, you're doing it wrong, but I'm gonna do my best to love you anyway." This position looks down on me and says "we all have a sin problem! Even me!"
This other position of believing the best about me, looks at me as and wonders "how is God working in his life?" It places us in areas where we can learn from each other, it offers genuine engagement and genuine curiosity. The philosopher, Martin Buber, calls this position as an opportunity for an "I, Thou" interaction instead of an "I, It". We see each other as full people instead of objects to be used. This doesn't discount sin, it doesn't ignore sin, but it does stop us from seeing each other as sin-infested beings. Instead, it helps us look at each other as people who are beautifully and wonderfully made. We are able to look at each other and see beloved children of God.
  I am not a person that needs to be approached with the qualification of "someone to be loved." I am a person. I don't want your unconditional love because, honestly, you can't give me unconditional love. Sure, you can choose to love me, but loving me is not inviting me out for coffee so you can hear a little bit about my life and then open your Bible and tell me how wrong I am. What I do want is you to walk along with me, to offer me the benefit of the doubt, to trust that God is doing a great work in my life, no matter how wrong you think I am.
Because, here is something that I know to be true. I am doing the best that I can to walk this path as a gay man who believes that Jesus is the way, the truth, and the life. I am doing the best that I can to hold my life to the authority of scripture, to form my life around what Scripture says, instead of forming Scripture around my life. I am following Jesus in the best way that I know how. My path may look different than how some may think it should, my path may look different than what some think the Bible says, but, in these next couple hours, will you sit with me and wonder? Will you look around this room and up on this stage with a sense of awe and look for the common thread of Christ in each of us? Will you ask along with me, "What if we are all doing the best that we can?" What if God is working in these lives too? And as we wonder together, may we look at our own selves and begin to reflect on where we might need to grow. May we listen with open ears and open hearts.
May grace and peace be with us on this journey. Thank you.
---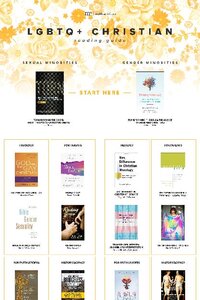 Get My LGBTQ+ Reading Guide!

Want to learn more but don't know where to start? This guide makes it easy.