Caitlin Stout is an unapologetically gay Christian, doing her best to navigate faith and friendship while attending a non-affirming evangelical university. She likes to talk about sociological theory, sexuality, liturgy, and breakfast food (oftentimes all in the same conversation). She is also a barista, glitter apologist, and aspiring seminarian with a heart for those who are still in the closet.
On today's episode we talk about what it's been like coming out at a Christian college, her advice for people who are wanting to do the same, and how her theology has changed since coming out.
Caitlin blogs at caitlinjstout.com and is on Twitter and Instagram: @caitlinjstout
Queerology releases every Tuesday and is produced with support from listeners via Patreon. Join in the conversation on Twitter: @queerologypod and #Queerology. Subscribe right now and leave a review via your favorite podcast service! Here are the links:
Subscribe via Google Play Music
Until next week,
-Matthias
---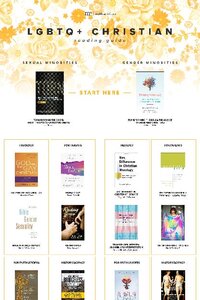 Get My LGBTQ+ Reading Guide!

Want to learn more but don't know where to start? This guide makes it easy.