Rev. Emmy R. Kegler is the pastor of Grace Lutheran Church in Northeast Minneapolis (gracenempls.org) and the founder and editor of Queer Grace, an encyclopedia of online resources around LGBTQ life and faith (www.queergrace.com). In this episode she sits down with Matthias to talk about her complicated relationship with scripture and fighting for blessing.
Emmy's work can be found at www.emmykegler.com. She's on Twitter: @emmykegler and Facebook: facebook.com/emmykegler.
To find out more about the Queer Grace Community in the Twin Cities area, head over to facebook.com/qgcomm.
Queerology releases every Tuesday and is produced with support from Natalie England, Tim Schraeder, Sean McDorman, and other listeners via Patreon. Join in the conversation on Twitter: @queerologypod and #Queerology. Subscribe right now and leave a review via your favorite podcast service! Here are the links:
Subscribe via Google Play Music
Until next week,
-Matthias
---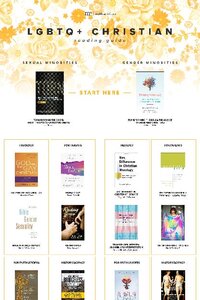 Get My LGBTQ+ Reading Guide!

Want to learn more but don't know where to start? This guide makes it easy.