Join Jennifer Knapp, Beth Carlson-Malena, Tyler Alan Jacobs, and Michelle Douglas as they discuss the gifts of the LGBTQ2+ community on a panel moderated by Matthias. This long-form episode was recorded live from SpiritPride Vancouver in downtown Vancouver, BC, Canada on July 28, 2018.
Tyler Alan Jacobs is a First Nations two spirit activist and Salish warrior representing the ways of the LGBTQ2+ and Squamish Nation. Born and raised Coast Salish, he is also a designer making traditional clothing and regalia's for the past twelve years. Although he is now sought out as a teacher, speaker and healer, he was not always accepted. Shortly after coming out as a youth, he was beaten so severely that his face required $30,000 of reconstructive surgery, leaving still-visible scars. Historically, individuals with cross-gender identity were revered in First Nations cultures and looked to as leaders, visionaries, and healers. Embodying both masculine and feminine traits, two-spirit people were thought to be blessed with the ability to move between gender roles and were given important spiritual responsibilities as result. Tyler has embraced this heritage and says his history has made him who he is today.
Michelle Douglas is the Director of International Relations at the Canadian Department of Justice and Chair of the Reconciliation Panel for the Federal LGBTQ2 Apology. For more than a decade, Michelle has volunteered as the Chair of the Board of Directors of WE Charity – an international charity that empowers and inspires young people to create positive and transformative change in their lives and their communities. Her passion for social justice and LGBTQ2 rights in particular, has garnered her the Queen Elizabeth II Diamond Jubilee Medal in 2012.
Jennifer Knapp is an Grammy-nominated and Dove Award winning musician, singer and LGBTQ2 advocate who has appeared in various interviews with CNN, The Advocate, and Christianity Today. She is the presenter of Inside/Out Faith events – a platform of dialogue and music that "seeks to actively engage faith communities in order to educate, affirm, and foster support of LGBT persons and their allies." Her very public "coming out" experience in 2010 has empowered her message of inclusion; addressing the controversial topic of "Can you be gay and also Christian?" Through her music, story-telling, and conversations Jennifer has discovered the healing that comes from breaking the silence.
Beth Carlson-Malena, MDiv is Director of Community at Generous Space Ministries in Canada. After completing her BSc in Biology, she moved to Vancouver to study theology at Regent College, where her dual call to pastor and to work alongside marginalized people became clear. She loves her work at Generous Space Ministries, facilitating connections and understanding between LGBTQ+ Christians, their families, and their churches, and offering pastoral care to people with diverse perspectives and experiences. Beth also co-pastors a new Vancouver church startup called Open Way Community Church, a diverse, inter-generational, inclusive community that welcomes everyone.
Queerology releases every Tuesday and is produced with support from Natalie England, Tim Schraeder, Christian Hayes, and other listeners via Patreon. Join in the conversation on Twitter: @queerologypod and #Queerology. Subscribe right now and leave a review via your favorite podcast service! Here are the links:
Subscribe via Google Play Music
Until next week,
-Matthias
---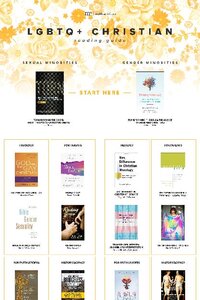 Get My LGBTQ+ Reading Guide!

Want to learn more but don't know where to start? This guide makes it easy.