Crystal Cheatham is the creator of Our Bible App and is an LGBTQ rights activist with a focus on religious liberty. In this episode, Crystal and Matthias talk about the need for inclusive faith spaces and the ways Crystal is creating those spaces.
Since 2011, Crystal has worked simultaneously as a ghostwriter and queer rights activist with groups such as Soulforce and the Attic Youth Center. As an entrepreneur Crystal is the founder of two projects: Follow the Red Balloon and The IDentity Kit, both of which provided resources for marginalized communities of faith.
As an outspoken activist Crystal has written for The Huffington Post, and the Philadelphia Gay Newspaper. Sat on the steering committee for the HRC as the Faith & Spirituality chair, and partnered with Equality PA to influence clergy to support non-discrimination legislation. She is the host of Lord Have Mercy, a podcast about God, sex and the bible, and has been featured in TeenVogue, Autostraddle, and LGBTQNation, among others.
Crystal can be found at crystalcheatham.com and on Twitter @crystalcheatham.
Queerology is on Twitter and Instagram, @queerologypod
---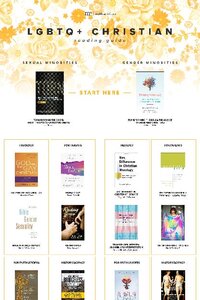 Get My LGBTQ+ Reading Guide!

Want to learn more but don't know where to start? This guide makes it easy.