Powered by RedCircle
Matthew Paul Turner is a New York Times bestselling author of multiple books, including his Children's books — When God Made You and When I Pray For You. His newest children's book, I Am God's Dream released last week.
Matthew's writing career started nearly 20 years ago, and he has published a book every year. Called "one of Christianity's fresh voices" by Publisher's Weekly, Matthew's other notable works include Our Great Big American God, Churched, Coffeehouse Gospel and The Christian Culture Survival Guide.
But, when he came out nearly two years ago and announced an impending divorce with his wife, his entire career was threatened. Today we're chatting about his experience coming out and what he has learned along the way.
Links + Resources
Join Matthias and Dr. Robyn Henderson Espinoza on May 12 at The Seattle School of Theology and Psychology as they engage in conversation around Dr. Robyn's new book Body Becoming: A Path to Our Liberation. This event has both in-person and online attendance options. All the details can be found at https://theseattleschool.edu/event/body-becoming-a-path-to-our-liberation/
Queerology releases every other Tuesday and is supported by its listeners via Patreon. Join in the conversation on Twitter: @queerologypod
Until next week,
-Matthias
---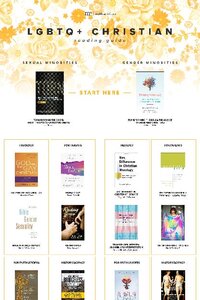 Get My LGBTQ+ Reading Guide!

Want to learn more but don't know where to start? This guide makes it easy.