How are you celebrating the first-ever national Queer Youth of Faith (QYF) Day on June 30, 2020?
On this episode of Queerology, a panel celebrates the life, creativity, and gifts of queer youth of faith.
The panel includes Ameera, a trans Bengali-American Muslim; Taline, a bisexual Armenian Christian; Daniel, a gay Jew; and Sebastian, a trans Christian.
Happy QYF Day!
Topics Discussed:
QYF Panel: How each identifies and how faith formed their identity
Honor, Celebrate, Center: Importance and meaning of QYF Day to each panelist
Affirming Theology: Spread awareness that God doesn't hate you
Queer Realization: Born this way and continual struggle to find hope and support
Advice: Nobody's perfect, don't change, you're not alone, find your people
Links and Resources:
QYF Day
Beloved Arise
Keshet
Muslim Alliance for Sexual and Gender Diversity
Rebel & Divine
Kevin Garcia on YouTube
Beyond Shame by Matthias Roberts
Matthias Roberts on Patreon
Queerology releases every other Tuesday and is supported by its listeners via Patreon. Join in the conversation on Twitter: @queerologypod
Until next week,
-Matthias
---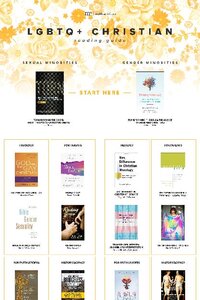 Get My LGBTQ+ Reading Guide!

Want to learn more but don't know where to start? This guide makes it easy.