A couple days ago, I was texting with a friend and he sent me a prayer that he had found that was bringing him life.
"A Prayer for Love"
by Jordan Bach
"Dear Universe,
I know that the perfect romance is
waiting for me, and that when I'm truly
ready to receive it into my life,
it will at last show up.
So I need your help.
Help me clear my eyes so I can see myself
as I truly am, without illusion.
Help me soften my heart so I can accept
myself completely and know I am worthy
of the deep, crazy, exhilarating,
healing love that I desire.
Help me to set myself free from anxiety,
insecurity, and doubt, so that I can at last
call into my life The One who is
just as free as me."
I read it, mentally checked, oh, that's nice, offered a brief "mmmm, I need this" and moved on with my night. Because, it sounds really nice, right? God, help me do the work I need to do in order to love well. That's the dream, isn't it?
But the prayer stuck with me. And not in a good way.
As I kept thinking about it, I found myself getting angry. The night went on and my emotions towards it increased. By the time I was walking home, I was throwing a few expletives at it. The next morning, I stood in my shower thinking "that is messed up, that is so messed up." I read it to a couple of my friends in the afternoon and watched as their faces immediately twisted in disgust. Yep.
I think many of us have seen prayers like this, or self-help blogs, or fun little shareable images floating around the internet along these lines. They promise that once we do the work we need to do, once we align ourselves correctly, then True Love will walk into our lives. Here's the deal. If these have helped you, lovely, I'm not here to cast doubt or judgement on that. I can see how there might be deep comfort to be found in these words. There is something to be said for doing our own personal work, for searching our innermost depths, (I mean, I'm training to be a psychotherapist…I get it.) But, if this prayer has left you a little bit on edge, feeling like there's something slightly off, here's some good news.
This prayer is terrible.
I'm sorry Jordan, but it is.
Why? Because it takes away the dynamic of relationship from the mix. It rests on this idea that if only *I* work hard enough, if *I* rest well enough, if *I* accept myself as worthy enough, if *I* do all these things, then and only then will Someone Else see me as lovable. Yet, the reality is, we cannot do any of these things by ourselves. I understand that we're calling upon God to help us here, but the means that God uses for this kind of thing is….surprise….other people.
We are people who are formed by people. It is neurobiologically impossible for us to have any concept of self — any awareness of who we are as beings – without being in relationship with others. (I'm *this close* to going full on APA citation mode right here.) The kind of work being called for in this prayer is not work that we can do alone. It is not work that we can force ourselves into by "staying open" to it. We cannot isolate ourselves and expect this transformation to happen. We cannot manifest ourselves into it. That's simply not how it works.
That's not how love works either.
Love doesn't wait around with a checklist. "Oh, look, Matthias's anxiety has gone down to 63%! Get ready, boys, he's almost at the threshold of being acceptable!" Right? Love doesn't sit there measuring our self-doubt, and fear, and insecurity, waiting for us to be just right before it enters our lives. Love isn't predicated on any of that. Love isn't dependent on *us* or the work that we have done (or haven't done). And, quite frankly, a 'love' that does that doesn't really sound much like love at all, does it?
That message is so untrue it's cruel, it perpetuates shame: "I just must not be enough yet." "I haven't done enough work yet." "I haven't prayed the right prayers, accepted myself enough…" and the list goes on and on.
Love is already here. Those of us who look towards Scripture for guidance can see that embodied in the work that Jesus does in our world. God's love doesn't wait for us to get our lives together before wrapping us up in an embrace. God doesn't sit there watching, "oh look, the humans have *finally* willed themselves into a more secure place! Get ready Jesus, they've realized they're worthy of us."
No.
Love comes and wraps us up exactly in the places where we fall. Love comes and sticks to all the places where we need a little bit of work. It looks at those places and says "I'm not going anywhere, let's do this together." Love takes our anxiety, our insecurities, our tummies that we are ashamed of, and says "hey, hey, look at me, I love this about you." "Come, stop working so hard, rest." That's love.
Love doesn't wait for us to get our energy just right before entering our lives. Love is already here. And while, for many of us, it hasn't taken the form of that One Person yet, don't believe anyone who tells you that you're just not truly ready yet.
Love doesn't wait for us to be ready.
Surround yourself with people who see you as you are. People who are honest, who will tell you the hard things, who stay with you even when you are a blubbering mess. These are the relationships where love is practiced, these are the relationships where healing happens. It is precisely your anxiety, your insecurity, and your doubt where love will find its stickiness.
It is in these places where love will whisper "rest, I love this about you."
I love this about you.
---
PS. Friends, today is Giving Tuesday. I would encourage each of you to give this year to The Reformation Project — an organization that is near and dear to my heart for the incredible work they are doing in the church in the pursuit of intersectional justice. They have a matching grant today, so your gift will be doubled! www.reformationproject.org/donate
---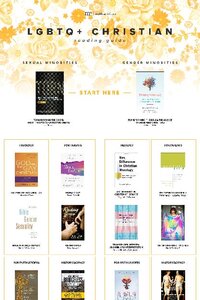 Get My LGBTQ+ Reading Guide!

Want to learn more but don't know where to start? This guide makes it easy.