This morning, my friend Kevin wrote on his blog "I Don't Need Another Straight Pastor to Tell My Story." He pleads with the church: listen to us. Listen to the LGBTQ Christians who are all around. He writes:
"That story, that life, that person will tell you more about what it is like to wrestle with God, more about what it is to live with the balance of divine unknowing and complete trust in God's sovereignty, more about what it is to walk through rejection and hate and public disgust and anger and STILL arrive at a place of loving God and God's people more deeply than ever before."
He's right. But there's a problem here. Because, so many of us — and this is a broad church-wide 'us' — have been told that the only people who we can listen to have to look like us, talk like us, and believe like us. Everyone else, anyone who challenges our theology, cannot and should not be listened to.
They're not real Christians.
When someone comes along who questions or has a different understanding, we look at their lives and pull out the punches. Biased. Deceived. "He places his desires over Scripture." Heretic. Perverted. We place those labels on them and then walk back towards our comfortable communities shaking our heads and saying "it's just so sad how some can fall away."
There's no listening required.
When we're so convinced that Truth resides within our communities, our buildings, and our beliefs, anyone who strays from that can be ignored and silenced. If they don't come running back, we push them away "saddened" at how far deception has overcome their lives.
And that's the key. It's all located in them, not in us. It's their problem. It's their struggle. It's their cross. It's their deception. We draw a line, declare ourselves to be the faithful, and plug our ears tight. We then go and write books about the people on the other side of the line, those people, with our fingers in our ears and our backs turned. Then we wave those books at the people across the line and yell over "see! See how much we love you! We wrote a book!"
It's not helpful. It hasn't been helpful. That line only grows thicker, the people over there only become more stereotyped.
So maybe, let's try listening. Let's try dropping our certainty and stepping across that line and engaging in genuine conversation. Let's stop talking about issues without people in the room who experience those issues — with them postured as authorities, not us.
As Kevin said:
"I am a gay Christian. My story has power and purpose. My life is a story of grand redemption, of life conquering death, of joy overcoming sorrow. Jesus loves me, the Spirit lives in me, and God affirms me. I will not be silent about the goodness of God or about the freedom I have found.
And if I can speak directly to all those conservative pastors and writers and bloggers out there who are talking about about me and about a community they know little about:
Kindly shut up and listen. Queer Christians exist. Listen to us. You will be amazed at what Jesus is doing with our lives."
Let's try listening.
---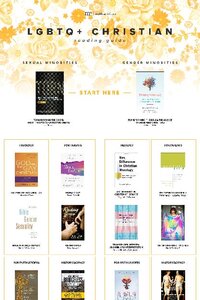 Get My LGBTQ+ Reading Guide!

Want to learn more but don't know where to start? This guide makes it easy.