"Don't blame me, I'm just telling you what God says."
I have to fight every sarcastic bone in my body (must be nice having a direct line to God, tell me, what does he think of that shirt you're wearing?) and respond graciously. This person is claiming absolute objectivity.
But, this person's objectivity crashes square in the face of many other people who claim the same objectivity. And that's when the wars start.
Truth is out there: I call it the Trinity. It permeates the very energy of our beings. Yet, when we take truth, put it in a cage, and require everyone to get into that cage with it, we place limits on it.
A couple days ago, I was flipping through my collection of quotes and reread these thoughts from Don Hudson:
"'Truth shall set you free.'
Free to read with questions and imagination.
Free to reach out to others in love and compassion rather than attempting to prove that we are right.
[We] are defending truth more than [we] are dancing with truth.
We already believe in truth. Then let truth compel us to God and then propel us into the world.
We cannot comprehend God. Then let us dance with God.
We do not understand the Other. Then let us dance with the other because our truth has set us free."
Coming to an understanding of truth is a community activity. None of us hold a monopoly on truth. Despite our attempts, none of us can hold up our interpretations and loudly scream that we are right while dooming everyone else.
We are not isolated beings. Truth is not isolated to our minds.
What happens when portions of our community begin to challenge our ideas of truth? What happens when people begin to use their voices to say 'you have forgotten about us'?
What happens when our sisters and brothers who look different than us tell us that we have hijacked truth and are using it as a tool of oppression?
This is the problem with community. It is not homogenous. For those of us whose interpretations are working, it is jarring and annoying to have a new voice step in and say "but, have you considered me?"
Community pulls us outside of ourselves and into a larger body that has much different experiences than our own.
The body of Christ.
Community is where the Holy Spirit resides. Not within our individualism. Not whispering exclusively to me. Sometimes, the voice of the Spirit is the voice of our sister or brother right next to us.
Yet, our tendency is to cut off. We reject, separate, disassociate, and grasp our little portions of truth more firmly. We raise our voices along with our fists.
One of the great teachers of our faith, the Apostle Paul, writes about this:
"Our bodies have many parts, and God has put each part just where he wants it. How strange a body would be if it had only one part!
Yes, there are many parts, but only one body. The eye can never say to the hand, "I don't need you." The head can't say to the feet, "I don't need you."
In fact, some parts of the body that seem weakest and least important are actually the most necessary. And the parts we regard as less honorable are those we clothe with the greatest care. So we carefully protect those parts that should not be seen, while the more honorable parts do not require this special care.
So God has put the body together such that extra honor and care are given to those parts that have less dignity. This makes for harmony among the members, so that all the members care for each other.
If one part suffers, all the parts suffer with it, and if one part is honored, all the parts are glad."
This is not a plea for homogeneity. The finger does not stop being a finger when it is a part of a community. It is part of the community exactly the way it is: in all its fingerness. With its particular perspective.
Do we listen to the pleas of our body when it says it is hurting?
When parts of our body find their voices and say 'something is wrong here,' do we just pop the Aspirin of Objective Authority and continue on our merry way? Or do we listen and tap into that pain?
The body is in pain regardless of whether we acknowledge it. We can ignore it, but as we ignore it our limping grows ever weaker
Limp.
Limp.
Limp.
The problem with the objectivity is that it is often used as an excuse to ignore the rest of the body. We use it as medication to soothe our fearful insecurities and assure ourselves that we are running the race with endurance.
But the body is hurting.
What are we going to do?
---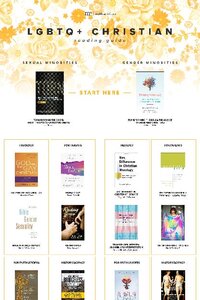 Get My LGBTQ+ Reading Guide!

Want to learn more but don't know where to start? This guide makes it easy.