"This is the generation that will define what it means to be gay in church." I stood in the corner of a small living room that was packed full of people for a conversation with theologian James Alison.
This is probably a terrible thing to admit, but when we read pieces about atonement theory by Alison in some of my graduate classes, I thought he was one of the old guys that I had never heard of (read that as: dead). Turns out, (surprise!), he's not an old dead theologian. He's very much alive. Last week, a group of us got to spend some time with him and he has had me thinking ever since.
Alison gave us a walkthrough of history from Jesus's time all the way up to the present day of how what we now call homosexuality was viewed culturally. It was fascinating, and made more engaging by his English accent. When he got to the present day, he looked at us and said: "it is your generation that is going to define what it means to be gay in the church. That is so exciting."
Up until this point, people have been fighting to be recognized, to be noticed, to be able to get married. While the battle certainly isn't over, as Allyson Robinson pointed out in her keynote at the Gay Christian Network conference this past January, it has been won. And now the real work begins.
Last week also, I was in Denver to speak at Our Witness — a TED style event that elevated stories of LGBT Christians. One of the speakers, Isaac Archuleta, talked about coming out and the five steps he sees that are a part of that: 1) come out to yourself, 2) come out to your friends, 3) come out to your family, 4) come out to God, 5) live as a visible LGBT person in the world.
Number five hit me. It's not enough to just come out to every aspect of our relational circles. The ultimate part of coming out is living it. Is unapologetically being lesbian, gay, bisexual, transgender in a world that doesn't want us to.
This is what I think Fr. Alison was getting at. It is my generation and the generation below me that will shape what it looks like to actually live as LGBT people of faith. There is no other generation that has been able to do this with the freedom that we have. There is no other generation that is able to live out our identities in the public sphere. Because of this freedom we are setting new standards and new definitions. We are standing upon generations of people who have been fighting for our rights and now we get to live.
That feels like a great responsibility. It means living into the fullness of my identity. And not some identity that is put on me — not the stereotypes, but who I actually am. It means being visible in relationships, in friendships, in my faith, in every aspect of my life. Not necessarily "in your face" visible — "look at us gays going to church!" But, "I'm not going to hide this anymore."
I'm not going to hide this any more.
That's the fear, isn't it? That's the hard part. Because, we are so used to hiding. We are so used to self-censoring. We are so used to pushing down parts of ourselves to make the people around us comfortable. To make our parents happy, "maybe if I act straight enough, my parents will be proud of me."
But, that is not what we are called to.
We are called to so much more.
As children of God, as beautifully and wonderfully created LGBT children of our living Father, we are called to so much more. We are called to step out of the hiding that we and others place upon us and live. To live outside of the walls of our closets. To live wonderfully mediocre lives along with everyone else, but do it differently. Because we are different.
We are in a unique place in history. But, more than that, I believe we are positioned here by God to create change simply by living openly. What better way to challenge the narratives around us than by living out our lives at the intersections of faith and sexuality?
How are you living today? What are you hiding?
This is my prayer. That we will be brave. That we will find the areas in our lives where we are still hiding. That we will live.
—
There is still time to join me and this blog community as we participate in the national One Book, One Church book club this summer! Interested? Find out more here.
---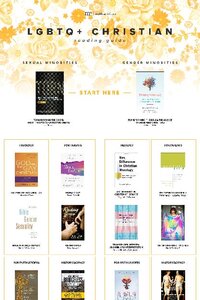 Get My LGBTQ+ Reading Guide!

Want to learn more but don't know where to start? This guide makes it easy.