It's Tuesday, yet this is not a Tuesday Tale. I'll be back with another story next week, but this post materialized this morning in the space between sleep and consciousness. I felt like it needed to be written.  
---
There was a tinge of sadness and questioning in her voice as she wondered out loud, "I keep hearing of good Christian families whose kids struggle with homosexuality." It was a plea and a petition. Why is this happening to us? 
We keep hearing about people who we love, families that we care about, and the seemingly sudden words "I'm gay." The whispers begin. What went wrong?
It's something my parents have to deal with, knowing that conversations are happening behind the scenes. The silent questioning and assumptions that run rampant. What happened? The Roberts', leaders in the church who became missionaries, what did they do wrong?
We are living in a world that is being shattered with every voice that speaks up. I am gay, I am a Christian, and I am loved. Abstracts are begging to have faces. And it is disconcerting. Issues are comfortable because of the distance, people are not because they are close.
There has not been another time in history where LGBTQ+ people of faith have begun to speak up and ask for recognition and acceptance. I've heard it said that it's a sign of the times, that it's proof the world is headed to hell. If we can hold out just a little bit longer, Jesus is going to come and destroy it all and we won't have to worry about those people anymore. The gays have begun to infiltrate the churches – the world is doomed.
I have some other ideas.
Maybe God is stepping in through the voices of our children and asking us to love. God might be placing so many LGBTQ+ people in families that are devoted to following Him in order to rock the boat a little bit. Could it be that God is revealing systems of injustice, oppression, and false teaching through the lenses of the people we love most? There is nothing like parents' love for their children and we see these parents waking up all over the place. Through the pain of having a child come out, lights are beginning to click, something isn't right here.
Maybe there are so many LGBTQ+ people in our church families because God is wanting to show us something.
I used to say that I would never wish this on anyone. I still don't want anyone to have to go through my experiences, or the experiences that have been far worse than mine. Yet, I find myself hoping that more people in Christian homes will raise their voices. There are communities in which a child will grow up and rock the boat. Humanization and love are deeply powerful forces.
I imagine and hope for a world in where LGBTQ+ people of faith are integrated into even our most conservative communities. Where a gay family can walk into the open arms of an evangelical camp, knowing that they are welcomed and included. Where coming out is not death wish (or at least, a self-directed walk into solitary confinement). Where the whispers and questions are not circulating behind backs and where "did you hear so and so is gay" is not the gossip going around the church grapevines.
This is the world that I and many others are working towards.
---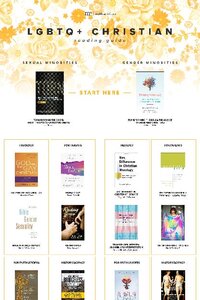 Get My LGBTQ+ Reading Guide!

Want to learn more but don't know where to start? This guide makes it easy.