Cuban-American writer and storyteller Lauren Ileana Sotolongo is passionate about the intersection of hope and humanity. I first met Lauren at a conference last fall, but didn't discover her writing and work until a couple months ago when I was scrolling through my instagram feed and I came across a poem that made me stop in my tracks, tears in my eyes. Since then, I've followed her writing and poetry obsessively and knew that I wanted her to be one of the first guests on this podcast.
In this episode, Lauren talks about grey areas, doubt as an act of faith, the power of showing up, and what it means to be a queer woman of color who creates as an extension of herself. She also shares with us some of her poetry and challenges us towards seeing the humanity present in each person we come in contact with.
Lauren has an essay releasing in the book Our Witness this fall. Follow her on Instagram and Twitter: @laurensotolongo. Her blog can be found at liturgicalspace.co.
Queerology releases every Tuesday. Join in the conversation on Twitter: @queerologypod and #Queerology. Subscribe right now and leave a review via your favorite podcast service! Here are the links:
Subscribe via Google Play Music
Until next week,
-Matthias
---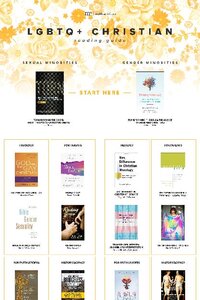 Get My LGBTQ+ Reading Guide!

Want to learn more but don't know where to start? This guide makes it easy.