Rachel Virginia Hester is a Panamanian-born student activist, artist, healer, gardener, researcher, and writer living in North Carolina. As a Christian, Rachel is passionate about seeing the Church in the United States flourish in full communion with all of Creation and dreams of serving the world as a minister and an educator.
Rachel has worked with organizations fighting for LGBTQ and racial justice in the South such as Soulforce and the Freedom Center for Social Justice and continues to find ways to practice and develop ethics that serve everyone. She has also nurtured, supported and created online and offline communities for queer and/or trans Christians of color to connect and thrive. Additionally, Rachel believes in the healing properties of natural landscapes, food, and the presence of non-human animals, advocating for racial, gender, and LGBTQ access and representation in the environmental, food justice, and animal welfare worlds.
In this episode, we talk about the role of lament and grief in experiencing joy, her project #BlackGirlPsalms, what it means to reclaim Scripture for oneself, and the power of agency for marginalized persons.
Rachel shares her creative work on her blog, The Generous Pine, and her Patreon project. She is on Twitter, @rachel_virginia.
Queerology releases every Tuesday. Join in the conversation on Twitter: @queerologypod and #Queerology. Subscribe right now and leave a review via your favorite podcast service! Here are the links:
Subscribe via Google Play Music
Until next week,
-Matthias
---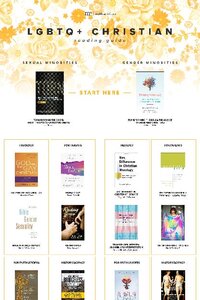 Get My LGBTQ+ Reading Guide!

Want to learn more but don't know where to start? This guide makes it easy.