Before we dive into today's Saturday Story, I wanted to take a moment to clarify the purpose of this guest-series. I believe that each and every person  has a story – many stories – that shape who they are as humans and children of God. This is a space for people who often don't get to share these stories, for LGBTQ people of faith who are marginalized and often broken. I approach each of these people with a theme, – for example, today I asked "tell me a story about a time when you felt loved" – and then allow them to share from their hearts.
I believe it is a sacred practice to listen to a person's story, despite the strong feelings, emotions, objections, and fears that it may bring up. The act of listening connects us into community, brings us out of our self-isolating world and into another's experience, if even just for a moment. Please, come with me as we take time to listen and hopefully see glimpses of Jesus in the eyes of others.
____
Shandi is a dear friend of mine. The summer before I went to JBU, I remember sitting at my computer and getting a quirky little message from this girl that I had never met. She was going to JBU as well and we struck up a conversation. She was at JBU for one year, then transferred back home to Canada. Gifted with an ability to write beautiful stories and poetry, Shandi shares her life over at patentlyoverthinkingeverything.wordpress.com. She is also an accomplished cook, writing her incredible vegan/celiac/paleo recipes at notperfectlypaleo.wordpress.com. Today she shares with us a time when she felt loved:
I was sixteen. I was sitting cross-legged in the Peruvian sun and I felt loved.
This was supposed to be God's work – there were so many of us. We'd traveled from around the world to save the rest. But I felt alone, small, stupid and ugly. Until her. Until the sun on that late afternoon.
I remember how I sat cross legged and she sat across the park bench from me, arms casually looped around her gathered knees. I remember how the sepia sun struck her golden hair and how her warm South African accent wrapped around me with pure agape.
For a moment in the chaos of salvation-making there was silence; I was all that mattered. I was seen.
I remember all the words inside welling up and weighing down my tongue – until everything I needed to say became the words I hadn't managed to get out. I remember the way her hand took mine, held it tight, and made me feel precious.
And for a moment, I was beautiful. I was seen. I was loved.
The irony is hardly lost on me now – that as over seven hundred teenagers and youth leaders descended on South America to save "the lost" we were all so desperately in need of saving.
I was so desperate.
I needed saving.
I don't know if it had occurred to me then. Why I was different. I wasn't ready to admit. I wasn't ready to hate myself that much.
I'd spent the months preceding this moment working full time at a fast food job, saving. Every cent that sent me to South America had been earned by my own unsure hands. I was going to matter. I would save them and I would matter.
After long days of chaos and the lingering scent of trans-fats, I would limp home in the sinking summer sun and wait. I would wait for solitude and then with all the terror of a trembling child I would click the mouse. It terrified me.
I thought I was sinning then.
All I wanted, so desperately was to see a woman kiss another woman. It was so innocent. A kiss.
But I felt dirty, scum, excrement.
No one could know.
I'd seen it before. A kiss. In movies. I'd read it in books. My parents kissed. My parents loved to kiss in front of me, to make me run from the room screaming in agony at the sheer horror of such travesty against my teenage soul.
The sun cast watercolours across the sky. Blue eyes gazed into blue eyes. And in the midst of my secrets and dark places there was her and her heart. And I cannot forget. In the moments when I needed it most, surrounded by boy-crazed girls and curious-boys whose eyes never met mine – I was seen. I was loved.
It would take two years from that moment for me to whisper the truth of my "struggle."
It would take another four years for me to believe the truth of my "struggle."
It would take another with blue eyes and a southern drawl that I would love and then lose before I recognized how I loved her.
It would take tears and swearing and nails digging into palms in gut wrenching agony.
It would take the loss of faith and faith's returning on new and tentative feet before –
I loved myself.
We walked away together, over cobblestone and between brightly painted houses. All around us cicadas sang a symphony and I felt my heart begin to ache again. I stood that night; hands raised singing "yes lord" until my soul was numbed. But the moment with her lingered, its fragrance never leaving my heart. And as I write these words eight years later, the tears still fall for a woman, and a moment in which I allowed, for a moment, another to love me.
I don't struggle any more. I breathe.
---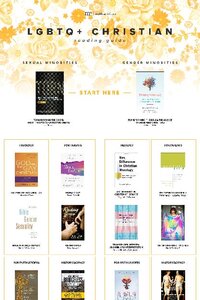 Get My LGBTQ+ Reading Guide!

Want to learn more but don't know where to start? This guide makes it easy.